Emblem3 Bears All, Lady Gaga and Katy Perry Fans Start a Feud (Again) and 7 More Reasons To Drink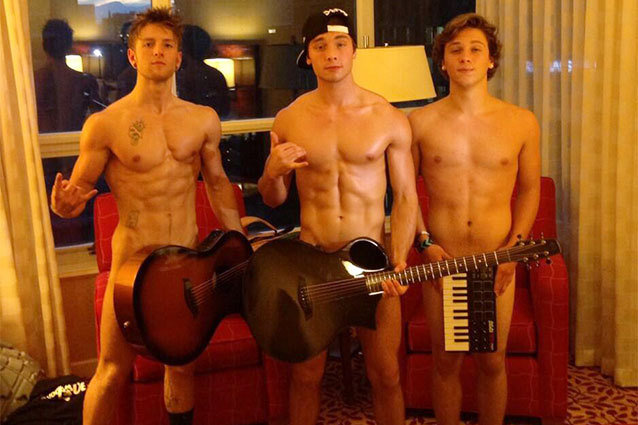 Every week, Hollywood gives us something to whine about, and the week of August 12 was no different. We could make a drinking game out of this week, but that would be too dangerous. Instead, we'll stick to the usual formula: varying levels of alcoholic respite depending on how bothersome the week's issues are. Is your biggest complaint this week a flimsy one? How about a light cocktail to take the edge off? Got a real bone to pick with a celeb or entertainment entity this week? Go ahead, grab a drink that'll put hair on your chest. Here are the week's entertainment stories that are forcing us to seek a bubbly or boozy refuge. And maybe an idea or two about how you should wash them down.
LIGHTEN UP WITH A GLASS OF ROSÉ
Realize how much you need to get outdoors more, Duck Dynasty breaks cable ratings record. Seriously, that many people watch a show about duck hunting gear!?
Grey's Anatomy will never be the same, and neither will your life: Sandra Oh is peacing out for good. 
Never thought this day would come. Colbert betrayed us. The whole Daft Punk thing was planned.
WASH THIS WEEK DOWN WITH A MAI TAI
Lady Gaga's lyrics are so ridiculous, you'll need to wash them down with something strong.
Breathe a sigh of shame. Jennifer Lawrence has accomplished more things at 23 than you will in your entire life.
All men suck… even the fictional ones in movies we're supposed to love.
HIT THE HARDER STUFF WITH STRAIGHT UP VODKA ON THE ROCKS
Emblem3, you're like 15. Put some clothes on! Seriously, who okayed this?!
We loved Eastbound & Down. We loved it quite a bit. But Lindsay Lohan as a guest start? Couldn't they get… anyone else?
The Internet is a cruel and evil place. Having to make a decision between Katy Perry and Lady Gaga is too much to handle. Why can't we all just get along?

Follow Hollywood.com on Twitter @Hollywood_com | Follow Maité on Twitter @MaiteCubilette
More:
Unhappy Hour: Week of July 29
Unhappy Hour: Week of July 22
Unhappy Hour: Week of July 13
---
From Our Partners


Stars Pose Naked for 'Allure' (Celebuzz)


20 Grisliest TV Deaths of 2012-2013 (Vulture)