UPDATE: George Clooney Arrested At D.C. Protest
UPDATE: After being arrested the morning of March 16 during a protest outside the Sudanese Embassy, George Clooney is a free man. The actor got off easy, posting a mere $100 bail. Clooney was arrested with several other activists, including his father, Nick, for crossing a police line. 
ORIGINAL STORY: Breaking News! Actor George Clooney was arrested today, March 16, in Washington, D.C. while participating in a protest outside of the Sudan embassy, according to the Washington Post.
A witness photographed Clooney being taken away in handcuffs along with his father, Nick Clooney.
Clooney and fellow participants were protesting Sudan's "blockade of humanitarian aide."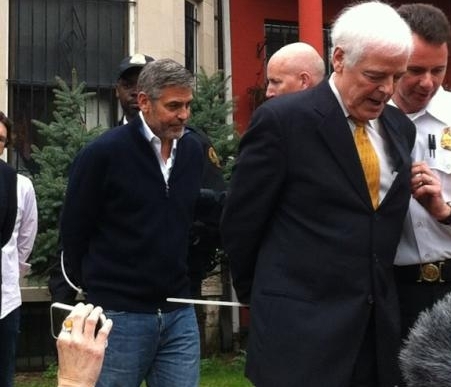 Source: Washington Post/Twitter