Update: 'GMA' Anchor Robin Roberts Begins Medical Leave Friday — VIDEO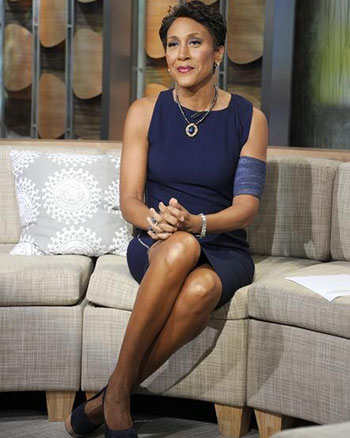 Update: Roberts announced on Thursday morning's show that she will begin her leave on Thursday instead of Friday as previously planned. She is moving her schedule so she can first fly home to Mississippi to be with her ailing, 88-year-old mother, Lucimarian, and her family in the Hurricane Isaac zone.
Earlier: Good Morning America's Robin Roberts is signing off to begin her medical leave following the tapings of this week's episodes, she announced on Monday. Roberts, 51, who was diagnosed with the bone marrow disease myelodysplastic syndrome (MDS) in June, will be receiving a bone marrow transplant.
On Monday's episode of GMA, Roberts said she will check in the hospital on Tuesday to "begin the process." She said, "It still takes about 10 days after being admitted because there are some things you have to go through before the (bone marrow) transplant actually occurs."
Roberts' donor will be her sister, Sally.
To prepare for her transplant, Roberts had to relocate her beloved dog KJ to Maine. "KJ has been in my life almost 15 years. She's up in Maine now because when you have a bone marrow transplant, you don't have an immune system for a while. And you're very susceptible to infection. And having a dog coming in and out … that was really hard," says Roberts.
Doctors told the New York Post that Roberts could be off the air for as long as six months. Dr. Scott Rowley, Chief of the Blood and Marrow Stem Cell Transplantation Program at UMC's John Theurer Cancer Center in Hackensack, NJ, tells the New York Post that patients being treated for MDS typically spend one month in the hospital and then three more under very close supervision.
Leading up to her final show (for now) on Friday, GMA will be paying her tribute in a segment called "Robin's Journey." Roberts will answer questions about her disease and treatment as well as share inspirational stories from families living with MDS. 
Follow Abbey Stone on Twitter @abbeystone
[Photo Credit: Ida Mae Astute/ABC]
More:
Robin Roberts: 'Pre-Treatment for MDS Caught Up With Me Tuesday'
Robin Roberts Taking a Break from 'GMA' to Undergo a Bone Marrow Transplant