Usher's Stepson Dies Following Boat Crash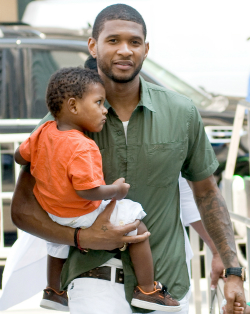 Tragedy has befallen the family of music artist Usher, as his 11-year-old stepson Kile Glover has died following a tragic jet ski accident on July 6. 
Glover, the son of Usher's ex-wife Tameka Foster, was reportedly riding on an inner-tube, along with an unnamed 15-year-old girl, pulled by a boat in Lake Lanier, Georgia, when a jet ski collided with the pair. The jet ski was being driven by family friend, Jeffrey S. Hubbard.
Both Glover and the girl in question were air-lifted to the children's healthcare unit at Atlanta's Egleston Pediatric Hospital. Glover had since been declared legally brain dead, and his parents have now chosen to take their son off life support.
Foster posted on Twitter, "We know God's in control, and are leaning on our faith in Him and His word at this most difficult time. We firmly believe in the power of prayer and ask that you all continue to pray and lift Kile up, as it's the best way we can all support him now."
Melissa Cummings, Public Affairs Coordinator of the Georgia Department of Natural Resources, told Hollywood.com exclusively, "The Georgia DNR, Wildlife Resources Division is saddened to report that sources have confirmed that the 11 year old victim of the incident on Lake Lanier of July 6, 2012 has passed away. Our thoughts are with the family at this time. The investigation into the incident continues. This is all the information our agency has at this time."
No charges have been filed against Hubbard.
(Additional reporting by Lindsey DiMattina)
[Photo Credit: Wenn]
More: