Sending Good Thoughts to Valerie Harper, Revolutionary, Inspirational 'Actor'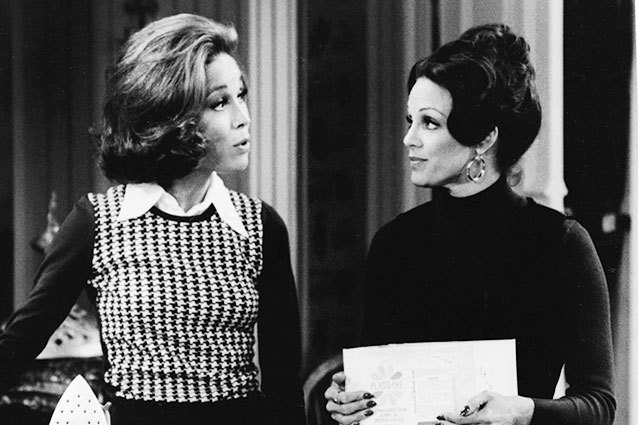 With Valerie Harper announcing in today's People magazine that she's been diagnosed with terminal brain cancer, anyone who's a fan of The Mary Tyler Moore Show, Rhoda, women's rights, comedy, or good in the world should take a moment to send healing thoughts her way. 
As I learned in researching my upcoming book about The Mary Tyler Moore Show, Harper is a class act. She's friendly to everyone she encounters, and she can't help but help anyone who needs it. Her character, Rhoda, gave Mary Tyler Moore its feminist heart — because of the friendship between Rhoda and Mary, and because Harper herself was an outspoken feminist. She refused or revised lines she deemed unliberated. She talked in the press about her desire to be called an "actor," not an "actress," and argued with fellow actor Ed Asner about the importance of "Ms." (This was before Asner himself became a feminist.) Her headscarf-wearing Rhoda was supposed to be the schlumpy sidekick, but instead she became the cool-girl role model.
RELATED: Valerie Harper Diagnosed With Terminal Brain Cancer
Even Gloria Steinem got a little slobbery over Harper's awesomeness. In a 1978 Ms. magazine cover story, Steinem interviewed Harper, calling her Rhoda character "one of the few realistic women on television." Harper and Steinem discussed the subject of women and money, on which she had loads to say. In a statement that inadvertently summed up her entire personality, she said: "That's the best part of having money — being able to give gifts. I bought my mother her first real gold earrings. I got a great feeling out of being able to pledge $5,000 for the ERA. And I give to a Chicana center in Los Angeles, and a project to convince people that worldwide hunger isn't something natural; that it can be eliminated completely, like the plague. And I loved being able to pay for an ad in the trades thanking Charlotte Brown, our new executive producer on Rhoda, who's literally doing the work of four men who used to be there."
Yes, Harper is a talker. But her life has made even more of a statement. Please send her your best thoughts today.
Hollywood.com correspondent Jennifer Keishin Armstrong is the author of two forthcoming books, Sexy Feminism and Mary and Lou and Rhoda and Ted, a history of The Mary Tyler Moore Show. For more information visit  JenniferKArmstrong.com.
Follow Jennifer on Twitter @jmkarmstrong 
[Photo Credit: CBS Photo Archive/Getty Images]
---
From Our Partners:


40 Most Revealing See-Through Red Carpet Looks (Vh1)


15 Stars Share Secrets of their Sex Lives (Celebuzz)