Vanessa Hudgens' 'Spring Breakers'-Inspired Song "$$$ex" is a Hot Mess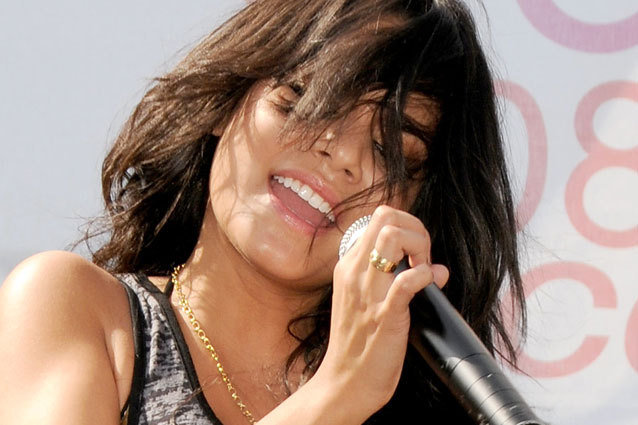 Before Vanessa Hudgens was waltzing with shotguns and having threesomes with James Franco, she was a singing, dancing, Zac Efron-kissing Disney princess. So when word reached us that Hudgens would be releasing a new song, our inner tweens squee-ed with High School Musical-loving delight. But oh, how wrong we were.
RELATED: 'Spring Breakers' Sex Scene: Hot or Horrifying? 
Hudgens released "$$$ex" on iTunes Friday, with a video comprised of Spring Breakers clips, and it's just about as far from Gabriella Montez as you can get. It's kind of like Ke$ha — dollar sign and all — but, somehow, worse. I'm not even sure we can classify this cacophony of screeching sound as music… there's certainly no singing. 
RELATED: 'Spring Breakers' Glossary: What the Heck is an ATL Twin? 
Furthermore, to call the song "inspired by the film Spring Breakers" is an insult to Harmony Korine's work. Hudgens may have starred in the film, but after hearing this song I'm not exactly sure she's seen it. Does she realize the movie is a biting commentary on our culture of over-indulgence? "$$$ex" makes the spring break lifestyle as the f**king s**t, yo. Something has gotten lost in translation. 
RELATED: 'Spring Breakers' Is Hot at the Box Office as It Parlays SXSW Success
Watch the video below (or don't, I promise you'll hate it):
Girl, better stick to "Sneakernight."
Follow Abbey On Twitter @AbbeyStone
[Photo Credit: Gregg DeGuire/Getty Images]
---
You Might Also Like:


15 Oscar-Winning Nude Scenes


10 Insane 'Star Wars' Moments You Didn't Notice