'Vanity Fair' Hollywood Issue Dares to Be Different, But Nothing's Changed

Old school; satin-covered; glamorous; predictable — these are all words that typically define the annual Vanity Fair Hollywood issue. When the cover is unveiled, we all clamor to marvel at the pretty starlets assembled on a dreamlike set, floating like angels of haute-couture, and giving us exactly what we've come to expect. Every. Single. Year. But not in 2013. This year, it's going to be different, the magazine promises. Unfortunately, it's not — but that's not the magazine's fault.
Gone is the old Hollywood glamor, here to stay is a bit of a visual circus, full of ring leaders, four-legged friends, and even furries. "It's one for this history books," proclaims the magazine's press release. The issue includes more than 75 different Hollywood stars, and some of them aren't even humans! (See: the elephant on the fourth panel of the mag's new cover.) How are your mind grapes doing after that? What do you mean they're totally fine because this supposedly mind-blowing twist on a classic is about as shocking as a lens flare shot in a J.J. Abrams movie? Are you not amused? The cover, which was shot by Bruce Weber as a tribute to the "real" Hollywood, dares to be different, and while the visual lacks the usual proliferation of satin opera gloves, when it comes down to it, it's the same old story again.
We're still facing a Hollywood A-list (and A-list of the future) that lacks diversity. While the 75-plus person list includes folks like Quevenzhane Wallis (Beasts of the Southern Wild), Kerry Washington (Django Unchained), Halle Berry, and Selena Gomez, the focal point of the annual issue is, once again, a group of white actors.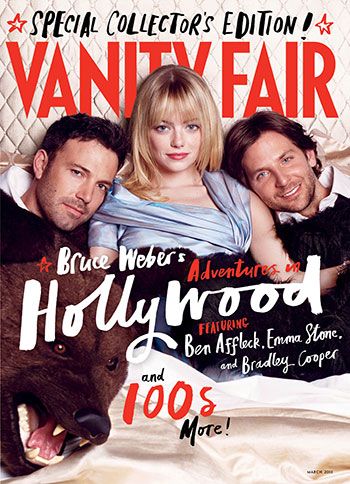 As Jezebel pointed out, while the cover itself features Wallis and Washington, each actress's image appears behind the fold alongside Olivia Wilde, Les Mis's Eddie Redmayne, and a fanciful elephant, while only Ben Affleck, Emma Stone, and Bradley Cooper grace the newsstand-facing portion of the cover. That was the problem with the 2012 cover, which had its only actresses of color, Adepero Oyude and Paula Patton, were behind the fold while Rooney Mara, Jessica Chastain, Jennifer Lawrence, and Mia Wasikowska graced the first panel. And in 2011, while Jake Gyllenhaal, Ryan Reynolds, Anne Hathaway, and James Franco sat front and center, Anthony Mackie and Rashida Jones were pushed back to subsequent panels. It's a pattern that's rather hard to ignore, but does it really mean that Vanity Fair is the one with a diversity issue?
Sure, we can roll our eyes in a self-satisfied, finger-wagging moment right about now. Vanity Fair is stretching itself to deliver something visually different in its Hollywood issue with the addition of Weber's aesthetic, which eschews old school glamor for free-wheeling friendship among the stars — but it's doing so without fixing the recurring problem with its cover. The problem, however, isn't Vanity Fair's to fix. The problem belongs to Hollywood.
The world is changing, and with that comes the promise of diversity, but just because we're seeing big results, like the election and re-election of President Obama, doesn't mean that diversity has spread like a magical blanket to every corner of our world. There are still great gaps in our growth, and one gap happens to exist in a realm that we put on display all year every year: Hollywood. Vanity Fair captures the glitz and the glamour of the stars we already love and those we should turn our attention to next, and naturally, those we're already obsessed with tend to make the first panel of the yearly multi-panel cover. Vanity Fair has to sell magazines; is it any wonder the biggest stars in the cover set make it to the first panel? The magazine has responsibility as something of a tastemaker in the industry, but they can't sell us what we aren't already willing to buy. Perhaps the cover isn't an expression of the consumers' issues or the magazine's issues, but our collective issues as a culture.
A quick survey of this years' award nominees shows that the lack of diversity isn't just something that happens on a magazine cover once a year. Of the Oscar-nominated actors and actresses in 2013, two are not white (Denzel Washington for Flight and Wallis for Beasts of the Southern Wild). The Best Director category includes only one non-white director (Ang Lee for Life of Pi) and absolutely no women, despite the wide critical acclaim for Zero Dark Thirty director Kathryn Bigelow. While Hollywood is practically a poster-town for socially liberal causes, including diversity in all its forms, when it comes to crowning the cream of its crop, we're constantly looking at a set of folks that resembles its past incarnations.
Vanity Fair may be guilty of buying into the predictability of Hollywood's yearly popularity contest, but the magazine isn't creating the problem. It's a bigger problem, Vanity Fair's Affleck-Stone-and-Cooper-play-with-the-furry-fetish cover is just a symptom.
Follow Kelsea on Twitter @KelseaStahler
[Photo Credit: Bruce Weber exclusively for Vanity Fair (2)]
More:
Jennifer Lawrence is America's Darling: Can Her Charm Nab Her the Oscar?
Why 2012 Was Not 'The Year of the Woman'
10 Endorsements From Barack For Hillary's Maybe-Probably-Hopefully Presidential Campaign

20 Hottest Celebrity Bikini Bodies