Tony Winner 'Vanya and Sonia and Masha and Spike' Is More Chekhov Parody Than Homage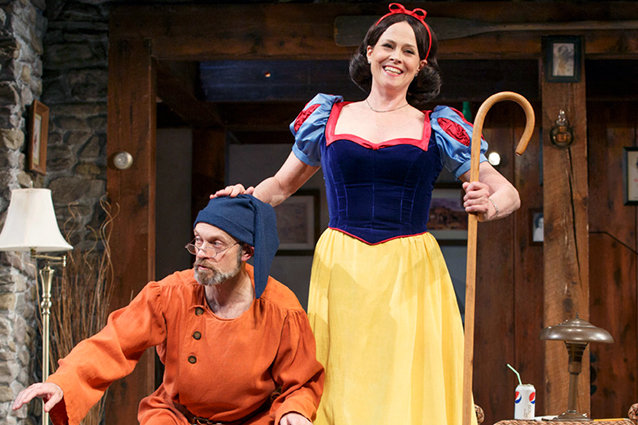 If you haven't read a word of Anton Chekhov you'll enjoy Vanya and Sonia and Masha and Spike. But you'll find it so much funnier if you have.
Christopher Durang's modern-day update of themes and situations from the Russian master's oeuvre just won the Tony Award for Best Play, causing its run at the John Golden Theatre to be extended through August 28. Catching up with the play again following its Tony victory, it's easy to see the reason why it took home the big prize. Or rather four reasons why: David Hyde Pierce, Kristine Nielsen, Sigourney Weaver, and Billy Magnussen as the titular quartet. Their commitment elevates what's otherwise rather slight material — Durang's transformation of Chekhov into a self-referential comedy of errors. Vanya and Sonia and Masha and Spike is really no different from the playwright's Durang/Durang, his collection of six one-act parodies of classic plays like Tennessee Williams' The Glass Menagerie, which Durang transformed into "For Whom the Southern Belle Tolls."
In Bucks County, PA, fiftysomething siblings Vanya (Hyde Pierce) and Sonia (Nielsen) greet the morning much as they always do: in pajamas drinking coffee on their porch, awaiting the arrival of a cherished blue heron. They've never had to earn a living — their famous actress sister Masha (Weaver) sends them money in exchange for being able to flaunt her fabulous movie-star life to them on occasion — and Vanya spends his days writing experimental plays, while Sonia pines for Vanya. Don't worry, she's an adopted sibling. Much of the play takes place on that porch, capped with a gabled roof, dappled with warm sunlight, and enfolded by a cherry orchard (because it's Chekhov).
Though Vania, Sonia, and Masha's sibling dynamics are very Chekhovian, Durang chooses to go meta on us by revealing that their parents were literature professors and community theater enthusiasts who deliberately named them after Chekhov characters. Some of Durang's dialogue is overly expository in setting up this concept, with Vanya saying to Sonia "Well, I guess that's what happens when your parents are literature professors," as if she's only learning of their profession for the first time. It's the kind of conceptual futzing that's frustrating.
But Durang's material gets a shot of adrenaline the moment über-thesp Masha appears, threatening to sell their house out from under them and flaunting her vapid boy toy Spike (Magnussen), a finalist for a role on Entourage 2. Weaver's Masha is in full Norma Desmond mode, crippled by both inferiority and superiority complexes, while Magnussen plays Spike with go-for-broke physicality as if he were a horny puppy dog — he humps Masha repeatedly throughout the show and performs a ridiculous "reverse striptease," in which he starts with his clothes off but gives a Chippendales-style performance as he gets dressed. Once the laughs subside you realize the four characters represent four different coping methods for dealing with life: nostalgia (Vanya), hermitage (Sonia), escapism (Masha), and ignorance (Spike).
Durang tends toward the absurd, as he did in The Marriage of Bette and Boo and Betty's Summer Vacation. Masha is determined to put her siblings in their lowly place by forcing them to attend a party where she's dressed as Disney's version of Snow White, while Vanya is a dwarf and Sonia is the Evil Queen. They stay in these costumes for much of the play.
In the second act, Durang starts treating his characters like human beings more than archetypes. Sonia's role as the Evil Queen turns out to be a huge hit at the party, overshadowing Masha, and her sincere attempt at connection afterward, a lengthy phone conversation with a potential suitor, is hopeful and heartbreaking, a gossamer transformation perfectly executed by Nielsen. Vanya's emotional breakdown after Spike doesn't "get" his play about a molecule is a show-stopping five-minute monologue about his love of the analog era before the much-younger Spike's birth and his contempt for everything that's come since. Hyde Pierce may not have conveyed emotional fragility this acute since Niles Crane.
Though it's hard not to think that Durang is really besotted with his own cleverness — and hard not to be annoyed by that — Vanya and Sonya and Masha and Spike is proof that serious neuroses don't need to be taken too seriously.
Follow Christian Blauvelt on Twitter @Ctblauvelt | Follow Hollywood.com on Twitter @Hollywood_com