Victoria's Secret Models Help You 'Deck the Halls'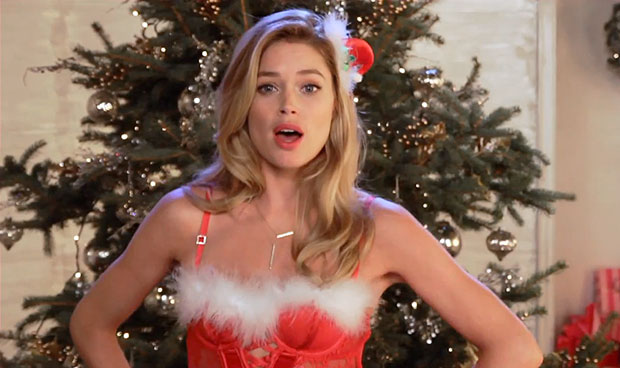 The newest Victoria's Secret Christmas commercial gives the world solid proof that its uber-sexy models are not perfect human specimens: For starters, none of them can sing.
The new ad features the Angels doing their own rendition of the classic carol "Deck the Halls," which means off-key singing and forgetting the words (while wearing lingerie). It'd almost make them seem human — if they weren't so adorable doing it. Foiled again, rest of humankind!
Things start out well, but it's all downhill once the prop candles decide not to ignite, some red and pink boxes tumble to the ground and Erin Heatherton has trouble remembering to "fa la la" correctly.
Doutzen Kroes gets a pass for stumbling on the lyrics considering English is her second language, and maybe we'll even forgive Miranda Kerr for not knowing the words because it's not a traditional Australian Christmas tune.
Check out the video if you'd like to see a bunch of supermodels look like idiots on camera — but in a really sweet, attractive way. Watch Kroes, Kerr, Heatherton and their esteemed colleagues Lily Aldridge, Alessandra Ambrosio, Lindsay Ellingson, and Candice Swanepoel wish you a Merry Christmas, Happy Hanukkah, Happy Kwanzaa and more.
Follow Jean on Twitter @hijean
[PHOTO CREDIT: Victoria's Secret]
More:
2012 Victoria's Secret Fashion Show Recap
2012 Victoria's Secret Fashion Show Pictures
Alessandra Ambrosio shows off new baby
'90210' Star Shenae Grimes' Engagement Ring (FIRST LOOK PHOTOS)

Kim Kardashians Best Bikini Moments (PHOTOS)