Video: Justin Theroux Breakdances on 'Ellen'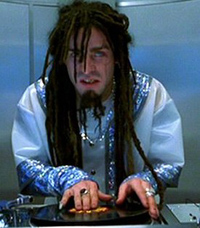 Though you may only know him as Jennifer Aniston's boyfriend, Justin Theroux has been part of the entertainment industry for quite a long time. And while he's never really been the leading man himself, he's transformed into some pretty unique characters in his career, including the breakdancing Evil DJ in Zoolander — a character that Aniston just can't seem to get enough of.
During his first talk show appearance on The Ellen Show (set to air this afternoon) Theroux reveals that Aniston has become "literally obsessed" with his breakdancing skills ever since seeing his performance in the film and tries to get him to breakdance all the time. He even has a particular pair of shoes he has to wear called his "breaking shoes." Theroux explains, "If I don't have my 'breaking shoes' then I don't breakdance…"
Luckily for us, however, his loving Wanderlust co-star was nice enough to send his "breaking shoes" over to Ellen DeGeneres before the show, making it the perfect opportunity for him to bust a move right then and there. He's still got some serious moves. Check out the clip below and see Theroux awesome breakdancing skills.
Click on the picture of DJ Evil above for more photos of Justin Theroux.