Vin Diesel Lip-Synchs for His Life & Wins the Internet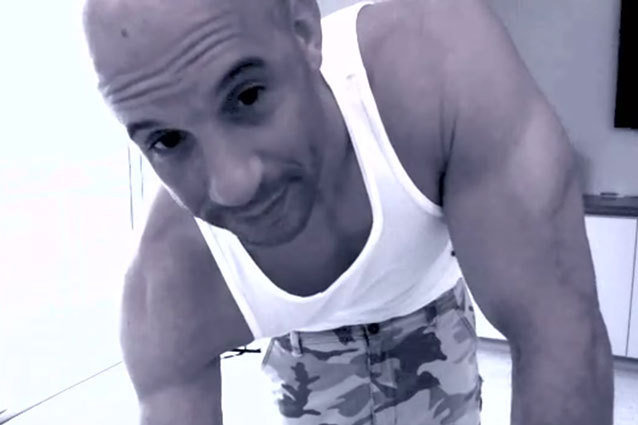 Vin Diesel/Facebook
If we can learn anything from Miley's tongue-lashing, no-clothes-wearing, twerk through 2013, it's that celebrities have more media savvy than you'd think. Social media will make and break careers in the future. Viral videos have become the sex tapes of the 2010s. So it's no surprise that a bizarre video Vin Diesel posted on his Facebook page has made him the talk of Hollywood.
To celebrate the early success of Riddick's Blu-ray and DVD sales, Diesel decided to share a bit of a kooky video of him lip-synching "Dark Horse" by Katy Perry and Beyonce's "Drunk in Love." However, he randomly breaks into a frank business discussion after his own personal dance party. But the question is … what's his thinking behind the video?
Diesel is the king of sequels. At first glance, Pitch Black and Fast & The Furious didn't seem like they would spawn even one let alone multiple sequels. However, Diesel hasn't starred in a film that wasn't a sequel for years. Is this video an attempt at Diesel angling for more attention? It worked for Miley. Could his suggestive dancing and halfhearted crotch grabs be an attempt to get on the cast of Magic Mike 2? His Jersey Shore-reminiscent dancing is better than some of the cast members (Adam Rodriguez, Alex Pettyfer) of the 2012 male-stripper drama. After all, that was a huge boost to Matthew McConaughey's notoriety.
Maybe he's practicing lip-synching for Fast & Furious 7.  Do the drag racers of the Fast & Franchise meet drag queens? Is Diesel going to go undercover as Lynne Diesel, or better yet Miss Diesel Ann-Gin to infiltrate drug runners at a drag show? As implausible as that plot may be that would be an epic storyline! It'd also would be great brand integration with RuPaul's Drag Race Season 6. 
Either way, Diesel is laughing all the way to the bank. He won the Internet with a video that included bizarre celebrity behavior, a reference to something topical (The Grammys) and a plug. Achievement Unlocked! Now an entire cross-section of people who haven't been thinking about Diesel is having second thoughts.