Will Sasso Vs. James Urbaniak: Which of the Vine Masters Is Funnier in 6 Seconds? You Decide!
The best comedy requires discipline: the precise, exacting awareness of how a single gesture or intonation can make people laugh. And what's more disciplined than having only six seconds to achieve that? Vine has become a cutting-edge new platform for amateur and professional comics to show just how quickly they can access your funny bone. However, the two masters of the form so far are, not surprisingly, old school pros: Will Sasso and James Urbaniak. They've quickly turned Vine into a place for a sight gags, slapstick, and gloriously out-of-context absurdity.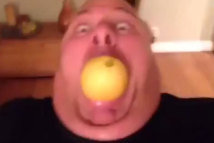 When a bunch of Vines are cut together into a compilation, it can get even more surreal. Above, check out a compilation of Sasso's Vine series, in which he continually regurgitates lemons. It's exactly the kind of thing you would expect from the guy who played Curly in last year's Three Stooges movie. And below is a mashup of some of Urbaniak's best Vines. The American Splendor star shows that it really is possible to tell a story in six seconds, if you include a little bit of shot-reverse-shot, some pop culture references, and play a little a fast-and-loose with copyright laws.
Have you found yourself laughing at Vines? Or do you need more set-up and context to find something truly funny? And if we're just comparing Sasso and Urbaniak: Who do you find funnier?
Follow Christian Blauvelt on Twitter @Ctblauvelt
More:
First Look at the Cover of 'Star Wars Death Star: Owner's Technical Manual'
Watch Cameo-Infused Magic Happen after Daft Punk Cancels on Colbert
'Thor: The Dark World' Trailer: Marvel's First Stabbing at Worldbuilding?
---
From Our Partners:


40 Most Revealing See-Through Red Carpet Looks (Vh1)


15 Stars Share Secrets of their Sex Lives (Celebuzz)