Wait, Really? 12 Grammy Winners You Won't Believe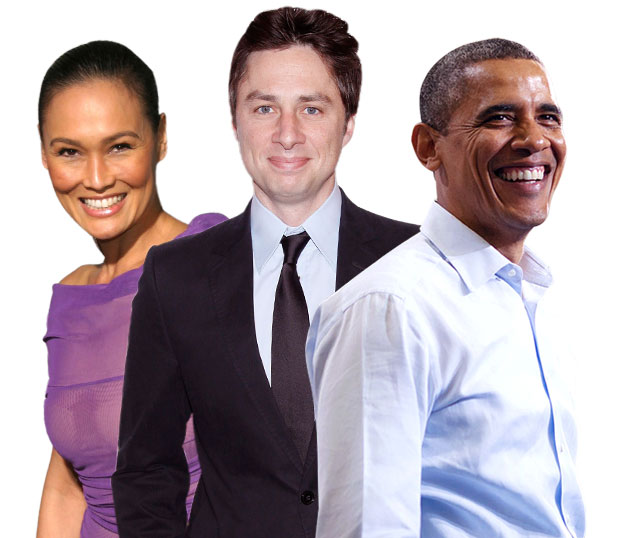 So you think the Grammys are predictable? Think again. The all-time winners list is more diverse than you'd think. With the 2012 Grammy nominations being announced tonight (along with a pretty incredible lineup of performers including rock legends The Who) it's hard not to play a little prediction game in your head:
Frank Ocean
will definitely get a nod or two,
fun. 
will get a little love, and there will probably be more than a little something for
Mumford & Sons
. But it's the surprising nominees that are the most fun, like last year's handful of Skrillex nominations. What's stranger still is when those wild cards win and we're all left to scratch our heads. As you look through the nominees later tonight, keep this in mind: the following 12 people won Grammys. So, basically, it's anyone's game.
President Barack Obama (2008)
Our president truly is a renaissance man. He's an Ivy Leaguer, jazz fan, avid
Homeland
viewer, basketball proficient, leader of the free world, and… a Grammy winner. He won his gold gramophone for his recording of his book
The Audacity of Hope
, and while he may be the most recent winner, he joins other Grammy-winning presidents Bill Clinton and Jimmy Carter. God Bless America, amirite?
Joaquin Phoenix (2005)
Thankfully, Phoenix didn't receive any reward for his giant joke of a rap career. He did, however, get a little trophy for his work on the soundtrack to
Walk the Line
. He should keep in mind, however, that the Academy isn't above revoking those awards, so maybe he should continue to keep as far away from the rap game as possible. Just a thought.
Milli Vanilli (1990)
To be fair, the Academy later revoked the Best New Artist award when it was revealed that Milli Vanilli's vocals were not their own. The scary thing is that if those pipes had belonged to Fab Morvan and Rob Pilatus, nothing would have stood between them and Grammy glory.
Shudder.
Zach Braff (2005)
Remember back in 2005, when everyone you know said that
Garden State
had changed their lives? And that the soundtrack was a gift from the music gods? Well, the Grammys agreed and awarded the architect of the compilation's greatness a shiny trophy. See? Braff has more to him than a legacy of awkward moments on
Scrubs
.
Edward R. Murrow (1967)
I'd give the guy a Grammy for having the best news anchor sign-off, but they don't have that category and the Academy seems to be ignoring my letters. Luckily, the beloved journalist already has a Grammy for his audiobook recording of 
Edward R. Murrow – A Reporter Remembers, Vol. I The War Years
. Right. Because we didn't have enough reason to idolize the guy as it is.
Art Garfunkel (Sans Paul Simon)
Garfunkel without Simon was a bit of a joke in the music industry. After Simon and Garfunkel disbanded, Paul Simon went on to win plenty of Grammys, while Garfunkel was left wanting. That is, until 1998, when he won for his children's album,
Songs From a Parent to a Child
. It sounds more like a manual than a work of art, but hey, good on ya, Artie!
Creed (2001)
You'd think a band that was once the number-one result for the Google search term "worst band ever" wouldn't have an award for what many music lovers regard as the worst song ever, "Arms Wide Open." But then again, we've got an
iPhone app
that you hold in front of your mouth to simulate a mouth saying the words your mouth is already saying. Sometimes life doesn't make sense.
Martin Scorsese (2005)
When you do a documentary about one of the greatest musicians of all time, you become eligible for a Grammy. And that's exactly how Scorsese ended up with a shiny gramophone for his Bob Dylan flick
No Direction Home
. Now, if only we could get this guy to write a musical about the mob, we could get him an EGOT.
Men At Work (1983)
Look, we all want to get down to "Down Under" from time to time, but giving Men at Work the award for Best New Artist just makes me think that the term "best" does not mean what the Academy thinks it means. 
Baha Men (2000)
Thankfully, someone finally rastled those damn dogs and we stopped having to try and answer the question that dominated the year 2000. We don't know "Who Let the Dogs Out," but they can stay in whatever kennel they were finally corralled in. Still, the Grammy powers that be felt it necessary to encourage this nonsense with an award for Best Dance Recording, proving that when it came to that song, no one was safe.
Cameron Crowe (2000)
And in what we're going to go ahead and let be a redeeming moment in Grammys 2000 history, the Academy gave director Cameron Crowe an award for the soundtrack to
Almost Famous
. There's no video, but I'd like to think Crowe accepted the award while yelling, "I am a golden god!"
Tia Carrere (2009, 2011)
The hot girl from
Wayne's World
 has not one Grammy, but two! It turns out, she's something of a Hawaiian music star. Stop calling her that hot girl now, please.
Follow Kelsea on Twitter @KelseaStahler
[Photo Credit: Wenn (3)]
More:
American Music Awards Winners' List: Did Justin Bieber Best Rihanna For Top Honors?
Taylor Swift Storms the 2012 American Country Awards Nominations
The 2012 MTV Video Music Awards Winners Are…

Harry Styles Spotted Outside Taylor Swift's Hotel Room The Morning After Their Date Night (PHOTOS)

Fall Bikini Bodies: The Good, The Great, The OMG (GALLERY)