Want to Buy Bristol Palin's Car? Or These Other Craigslist Gems? Now's Your Chance!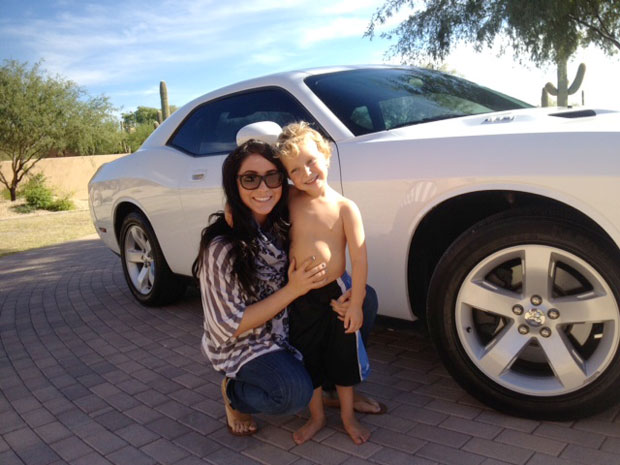 Are you in the market for a new vehicle? Preferably one with two doors, a black and white leather interior, and a history of being pampered (only air conditioned garages for this baby)? How about one that is good with kids and — here's the kicker — was once owned by a high profile Republican? Bristol Palin, who put her car up for sale on Craigslist Wednesday, is here to make your dreams come true.
Palin posted the news of the sale on her blog by saying, "Faithful readers know I love Craigslist!! So, when it came time to sell my car, that's exactly where I went!" Of course! Because Craigslist is definitely the safest, easiest, most convenient, and most reliable way to get rid of stuff you don't want. Especially if you are a television dancer extraordinaire and the daughter of a high profile politician celebrity.
To make sure Craigslist trolls believe that the 2010 Dodge Challenger up for grabs is indeed Palin's and not some cheap knockoff, Palin included a photo of herself and her son, Tagg, in her post. "Cute boy in above photo not included!" she clarified on her website — because that's precisely the kind of thing you need to be very clear about when dealing with Craigslist.
Maybe after perusing the photos Palin included of her car you'll decide the spiffy white contraption just isn't for you after all. You like a few scratches and dings on your vehicles; it gives them character. But hey, that's okay. Now that you're on Craigslist, so you have quick and easy access to all the things you really do need. Like these fine items:
Are you in the market for a new place to live? Perhaps your girlfriend kicked you out, or your parents are threatening to make you pay rent? Look no further than this old lady's gigantic bathroom. It's more than large enough to fit a twin mattress and it's only $400 a month. The downside? You are not allowed to vacate the bathroom. Except, of course, when your old lady landlord decides she needs to use it.
Nevermind the itch, these are honest-to-goodness, 100% authentic Pope hat replicas we're talking about here. Buy one for yourself and 1,324 of your closest friends. Just don't put one on your dog, it might make him bite the neighbor's kid.
If you're looking for an excuse to wear an ugly dress and enjoy an open bar, then sign right up to be one of this sad, friendless woman's bridesmaids. That is, if you pass the hot test. No uglies allowed, but also no one hotter than the bride.
A Signed First Edition of Plato's Republic
Act quick, or this first edition of The Republic autographed by Plato himself will be gone before you know it. And this is the one you want, as it is "in overall good condition considering its age."
True, this yoga mat has been sweated on profusely by a man who is admittedly 30 pounds overweight, but you can always wash it. Plus, thanks to the meticulous timeline made by the mat's previous owner, you know how it has spent every second of its active life.
Her name is Lou and she is mean and ugly and will pee on your carpet. And she could be yours for just zero dollars.
Throw this sad, unemployed, recently dumped man a frickin' bone by purchasing his shrine to The Smiths' singer. Just bring some tissues when you pick it up, as the sap very well may be sobbing.
Museum-Quality Oil Painting of Shaq
Valued at $100,000 plus a $3,000 frame, this Shaquille O'Neal portrait is a steal at a drastically reduced (undisclosed) price. This larger than life painting is not a print and was done by a Polish artist who is famous in Eastern Europe and Russia. This is not your average piece of sports memorabilia, but a real work of art. An NBA heirloom, if you will.
Free for anyone named Fred. Photo identification required.
This nap-ophile promises to provide all the services of a real cat if you take care of lodging, food, and expenses. Basically, he will be happy to ignore you, bathe in your home, eat your food, and sleep on the comfiest part of your bed, all for the low price of rent, groceries, and a cash allowance.
From the looks of things, Craigslist poster Bristol Palin is in good company.
Follow Abbey Stone on Twitter @abbeystone
[Photo Credit: Courtesy of Bristol Palin]
More:
Levi Johnston Gets Hitched in Big Fat Redneck Wedding (We Imagine)
Sarah Palin Is Officially Nothing More Than a Celebrity
Bristol Palin's 'Life's a Tripp' Not a Trip For Audiences
MTV's 'Teen Mom 3' Cast Revealed
(Celebuzz)