We "Scream & Shout" at Britney Spears and Willi.i.am's New Music Video
For weeks, Britney Spears and Will.i.am have been flooding the Twittersphere with lots of hype surrounding their new dance track "Scream & Shout." The highly anticipated music video finally premiered on The X Factor last night, and the five-minute mini flick has already nabbed nearly 380,000 views. Check out the video below to see what all the fuss is about.
Well that was a head-scratcher, huh? The video opens with our beloved Britney channeling Madonna's fake English accent while Will.i.am reminds us that the song is called "Scream & Shout" by saying it over and over again — and in case you didn't get it, his matching word rings really bring the message home. It seems that the only thing more repetitive than the lyrics are the multitude of product placements. Does anyone else suddenly really want to go out and buy a portable Beats by Dre speaker?
But most importantly: Why isn't Britney dancing?! Fans were hoping that this "dance track" would feature the X Factor judge's iconic moves, not just clone her in front of a white background for 4 minutes and 52 seconds. All we saw was some precisely placed fist pumping and posing like a Price is Right model in front of a new dinette set in the showcase showdown. Now please excuse us while we go watch "I'm a Slave 4 U" for the ten millionth time.
With all that said, the Princess of Pop does look phenomenal. With her teased blonde locks, sexy (yet age-appropriate) pencil skirt and the highest of high heels, Ms. Spears looks sultry yet sophisticated.
A few other notes: "It's Britney Bitch!" will never get old, Will.i.am has too many stupid hats, and the video ends with a the former Black Eyed Peas front man shooting a net at a gold mannequin. Yeah we have no idea why he did that either.
What did you think of the "Scream & Shout" video? Tell us in the comments below!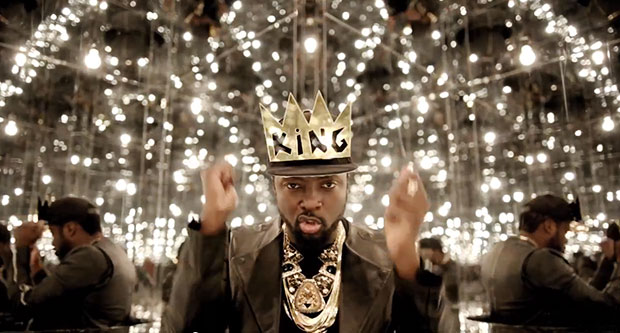 Follow Leanne on Twitter @LeanneAguilera
[Photo Credit: Interscope Records]
MORE:
Britney Spears and Wil.i.am 'Scream and Shout' on New Track — LISTEN
NASA to Premiere Will.i.am Song…on Mars?
Is This Britney Spears' New Perfume Ad or the New Peg on a Britney Timeline? You Might Also Like:

Best Nude Scenes of 2012 — PICS