Fandom Gone Too Far? Obi-Ron Swanson Crying Blood & 12 Other Absurd Fan-Made Gifts
Sanctioned merchandise from your favorite celebs and TV shows is so '90s. We're in the Etsy age, where anyone with the right craft supplies can whip up a unique, kitchy piece of memorabilia, and one that will fit your strange, far too specific needs better than any official fan club or website. 
RELATED: 11 Hot Guys With Puppies – GALLERY
Take for example, this painting (below) of Ron Swanson dressed as Obi-Wan Kenobi and sporting a psychadelic and bleeding black eye that only seems to mildly perturb him. You won't find gifts that specific on NBC.com, that's for sure (although they do have a Mouse Rat cell phone case, so that's awesome). 
But Obi-Ron is just one of many. We uncovered items for fans of Beyoncé, Taylor Swift's ex boyfriends, and Honey Boo Boo Child. We even found an item specifically made for Angelina Jolie's potential stalkers. Take a look at all the wonderful weirdness for yourself: 
GALLERY: Fandom Gone Too Far: Wild Etsy Products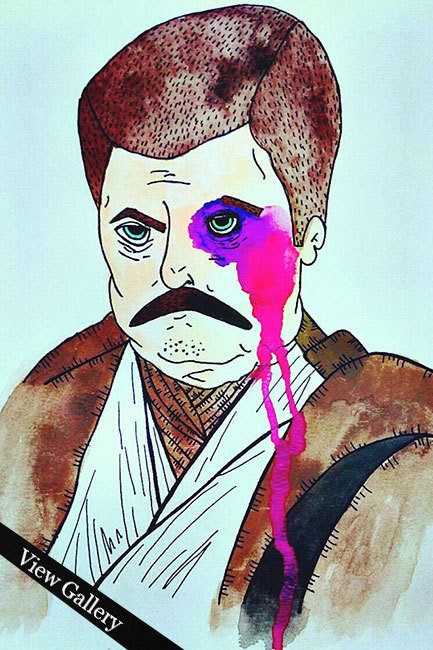 Follow Kelsea on Twitter @KelseaStahler
[Photo Credit: yourhandwriting/Etsy]
---
You Might Also Like:


15 Oscar-Winning Nude Scenes


Young Jack Black Is Totally Unrecognizable