Gremlin-Faced Banana Joe Wins Westminster Dog Show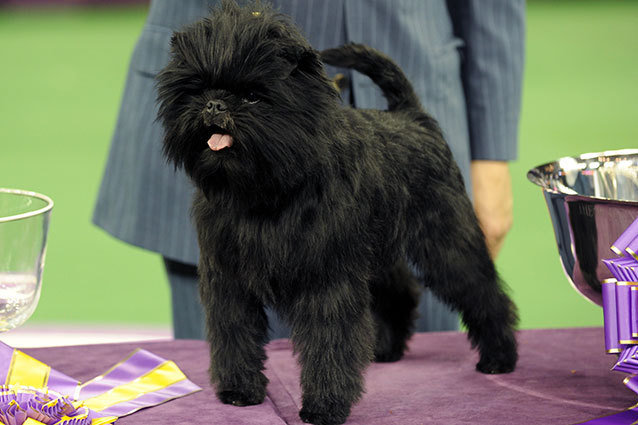 This is the face of a winner. Five-year-old affenpinscher Banana Joe pranced away Best in Show from the Westminster Kennel Club Dog Show on Tuesday night. Banana Joe (who has the best name ever) is the first of his breed to ever win the coveted title. 
According to the New York Times, at an after-show press conference Westminster judge Michael Dougherty said of Joey (as his friends call him), "He's a fantastic affenpinscher, with a fantastic face, a great body. I've never had my hands on a better affenpinscher. Ever." Whoa, bold words, Dougherty, you're making us blush. For those who don't know their breeds, the affenpinscher is a German breed that dates back to the 1600s. They were originally bred to root rats out of stables. You've come a long way, Banana Joe. 
RELATED: The 2013 Puppy Bowl Looks Pawesome — PHOTOS
Of the 2,721 dogs who entered, only Joey and six other dogs made it to the final round: Matisse, a Portuguese water dog (just like the Obamas have); Honor, a bichon frisé (which is, shockingly, not a kind of a salad); Jewel, and American foxhound (not related to the American folk singer); Swagger, an Old English sheepdog (not related to Justin Bieber or the Old Spice deodorant); Oakley, a German wirehaired pointer (not to be confused with the sunglasses); and Adam, a smooth fox terrier (Eve competed in another category). It's clear that our little prize-winning gremlin had not only the best physique — thanks again, Dougherty, for that detailed description — but the best name. 
So, Banana Joe, you've just one the Westminster Dog Show! What are you going to do now? Is there a Disney World trip in his future? No. He's going to retire, apparently. The Westminster win is just the cherry on top of a sundae of other "big, big show" wins for Joey, and it's now time for him to call it quits. The decision for Joey to retire is bittersweet for his handler, Ernesto Lara, who said of Joey's win, "I don't think he has anything to prove. I'm not bragging, this is just the way he is. The best thing is that I was in cue with him. … This isn't a breed you train. He's like a human. You befriend him." Joey will now leave Lara's care in Bowansville, Penn., and head back to the Netherlands, where he was born. 
RELATED: Sky the Wire Fox Terrier Takes 'Best in Show,' but Who'd Win our Pop Culture Dog Show?
But before he heads back to the land of tulips, Banana Joe will make his Broadway debut. The Associated Press reports that Joey will make an appearance for one night only in the musical The Mystery of Edwin Drood on Wednesday. And then, at long last, Banana Joe will be able to settle down and take time to enjoy the finer things in life, like the glory of rolling around in the mud, chasing after mottled tennis balls, and eating bacon. 
Follow Abbey on Twitter @AbbeyStone
[Photo Credit: Stan Honda/Getty Images]