What Is Going on Here? Drake Cooks With Guy Fieri: Internet Implodes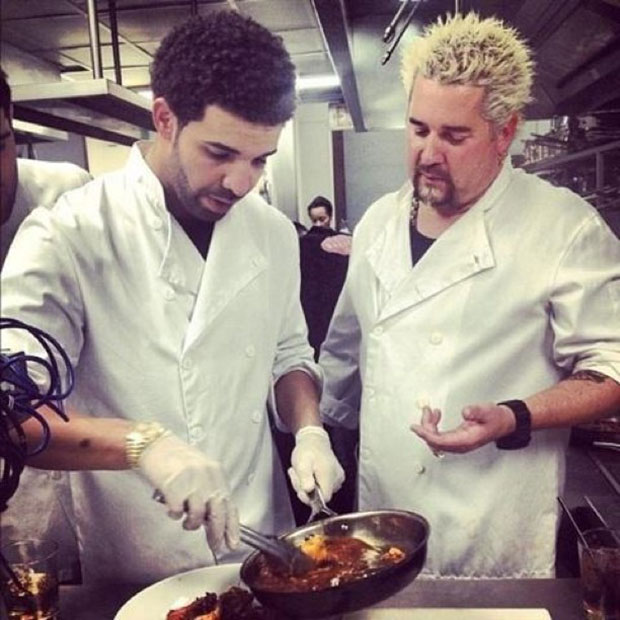 Is this real life? You betcha.
Drake's official fansite posted this photo to Instagram, sending fans of Drizzy and Flavortown into a tizzy. What wisdom could celebrity chef and New York Times victim Guy Fieri be teaching Jimmy Brooks? Conventional wisdom (and Fieri's tweets) suggest that Drake was simply cooking with the TV host at a Toronto haunt while Fieri was touring the city for his show Diners, Drive-ins, and Dives. After all, Drake is a native of the the big Tee-oh, so who better to show Fieri around? Representatives from the Food Network have not returned requests for confirmation at the time of publication, but the evidence is pretty stacked.
So what might these titans of Internet have said to one another while things were heating up in the kitchen? We've got a few ideas…
Surgeon General Warning: Contains lethal dose of YOLO.  –Michael Arbeiter
I thought Drake only made cakes… 
-Brian Moylan
From that day on, Drake only ate food considered "ULTIMATE." 
-Matt Patches
Is our food good? You bet your degrASSi! 
-Aly Semigran
This donkey sauce is going to be the best I ever had… HYFR. 
-Sydney Bucksbaum
Do you think this will make Pete Wells jealous? -Kelsea Stahler
What do you think these two are thinking in this photo? Share in the comments!
Follow Kelsea on Twitter @KelseaStahler
[Photo Credit: Instagram]
More:
Drake Officially a High School Grad
Guy Fieri Defends His Times Square Restaurant After Scathing NY Times Review, Hombre!
Guyfalll: Testing Fieri's Greasy Spoon in the Aftermath of the 'Times' Review

Inside 'Bachelorette' Stars Ashley Hebert and J.P. Rosenbaum's Wedding: The Menu, The Music & The Guest List Revealed (EXCLUSIVE DETAILS)

Mario Lopez, Courtney Mazza's Wedding Pictures Revealed: Take a Look at the Couple's Weekend Fiesta (PHOTOS)