What Louis C.K. Said to Lena Dunham at the Emmys & 12 Other New Yorker Fest Highlights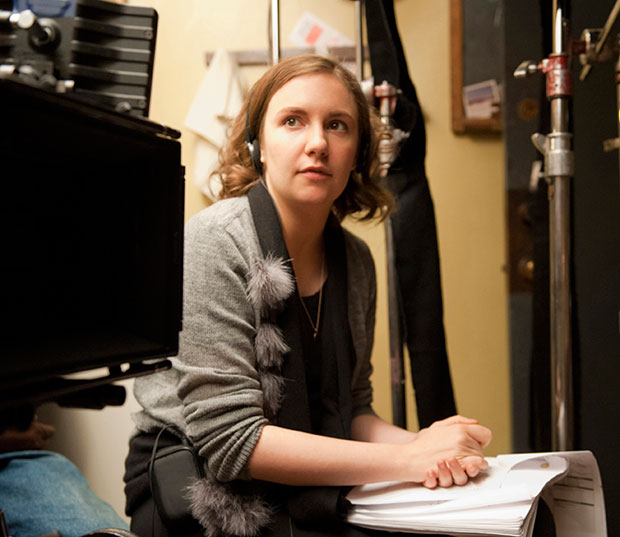 Lena Dunham
is a bit of a conundrum. Just when it seems she's a normal, ridiculously successful 26-year-old who just happens to be absurdly honest, we find her eating cake, naked, in a bathroom stall at the Emmys. Of course, between stunts like that and her often controversial HBO series
Girls
, it's no wonder Dunham is a magnet for assumptions, criticisms, and downright harsh words. And though she has a steady Twitter presence, the young actress/writer/director stays out of the critical fray for the most part. And that is why, when she sat down to discuss all things Lena during an event at the
New Yorker Festival
in Manhattan, the audience waited with bated breath for her bare, honest answers to questions we've all asked ourselves since we saw our first episode of
Girls
. 
And for fans of the often pants-less filmmaker and showrunner, the afternoon was one full of delight, delivering a host of reasons to love Dunham even more (13 reasons, to be exact). 
1. Louis C.K. Seems to Think She's Pretty Great
Dunham met the comedian's comedian, who she described as having "a f**k-this-scene vibe," at this year's Emmys, where they were both nominated for their fringe comedies. Gushing over the funnyman the way most 15-year-olds might gush over meeting a moppy-haired One Direction singer, Dunham described her guru-esque meeting with Louie. During a commercial break, he walked over to her, gave her a hug and told her, "What you're doing is important." This moment is not only moving (Dunham has played it over and over again a million times in her head), but it's just about the most perfect interaction between two people whose work on television occupies a similar, mass-audience-confounding plane. 
2. She goes to Justin Bieber concerts. 
Seriously. She even shared her knowledge of how much he praises his fans in between songs as proof. Stars: they're just like us! 
3. She's Not Going to Stop Going Without Pants, So Please Stop Talking About It
Dunham wore a silky tunic in late September that seemed to grab her lots of attention. The girl who's frequently naked on television (and in movies) apparently sent waves through the fashion world when she decided to show off her legs, but it seems her only crime is not having the thighs of a model. "I don't think a girl with tiny thighs would get so much no-pants attention," she said to thunderous applause. And as if we weren't already eating out of her hand like a flock of baby birds, Dunham added the rebellious (and let's face it, probably true) kicker: "Get used to it, because I'm going to live to be 105 and I'm going to show my thighs every day until I die."
4. Her Favorite Spice Girl is Sporty Spice.
She likes her "casual style," okay?
5. She's No Mean Girl
When confronted with the issue of the deficiency of women showrunners on television and the fact that she seems to be fans of or friends with many of the more prominent lady showrunners, Dunham said she has one rule to live by: "This isn't easy. There aren't enough of us. We should be taking care of each other." That's girl power if there ever was any. 
6. She's Writing a Self Help Book Because People Who Write Self Help Books Fascinate Her
"I love self help," she says. And without really explaining what her own book will be about, she adds her reasoning for the obsession. She's mystified by "the idea that you could master the most mysterious emotion" (and by that she means love) and then start telling others how to handle it. 
7. Hannah Isn't Going to Become the TV Lena
While Hannah Horvath is clearly derived from Dunham's real life, the writer swears she isn't just telling her own life story on TV. "I don't think Hannah wants the life I have," she says. In fact, "we" don't even know if Hannah has the capability to be an artist on that level. "Maybe that's the big Lost-style mystery [of Girls]," says Dunham.
8. She Apparently Has a Crush on Donald Glover Too, Ladies
The Community star, who also raps under the stage name Childish Gambino, will guest on Season 2 of Girls, and has apparently stolen Dunham's heart. "He's just so adorable," she giggles. She saved his character for late in Season 2 because Hannah has a "specific" romantic issue at the start of the season and Dunham "didn't want to share him with anyone."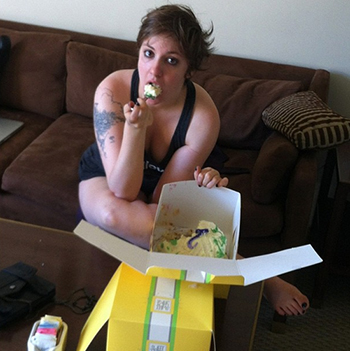 9. She Doesn't Get in Twitter Fights, But She's Got a Bone to Pick With Those of You Who Think She's "Racist" or "Privileged"
When Girls first aired on HBO, and in the weeks preceding its premiere, Dunham became the subject of a hailstorm of criticism claiming her early success was simply a product of nepotism (her parents are famous artists) and that her show's depiction of 20-something life in New York was exclusionary and therefore racist. Dunham says "it's not a cool move" to respond to that on Twitter, despite the defense she has at the ready courtesy of numerous summer jobs she's held since the age of 12 to earn her keep at home (not to mention the fact that she's not taking their gallery world by storm) and the fact that she never intended for Girls to be the end-all, beat-all record of 20-somethings living in Brooklyn. Still, "That is a real criticism," says Dunham, comparing the diversity issue to the nepotism claim. "If I in any way accidentally made that promise [to represent all New York 20-somethings], mea culpa," she says. Of course, she's never one to end a topic on a somber note, so she made sure to top off the whole discussion with one major complaint for her attackers: "Isn't it enough that I'm kind of fat and naked on TV?" This is where you say "Touche," guys.
10. The Girl Sticks to Her Guns, Even When That Doesn't Always Win Her Brownie Points
When a former writer for Girls to took to Twitter to defend the show for its supposed racism, she actually offended people all over again, causing her to delete the tweets and later apologize. Many people called for Dunham to apologize on behalf of the writer, and worse, fire her. But not only was Dunham "not interested in public firings," the woman didn't even work on Girls at that time. "I won't issue a public statement to apologize for someone's defense of work they didn't create … For me to add fuel to that fire could add weeks to the conversation," she says. 
11. She Doesn't Take S**t From Anyone. And She's Serious About It
Despite her youth, Dunham says the one thing she's learned while working on Girls is that she needs to trust herself. Often (and likely because she's so young) she gets criticism and notes from all directions, but she says she knows she's got the authority and the vision to do things her way, or as she remarked with so much inoffensive snark, she encountered this issue with an actress on the show and thought, "I don't need to be open to the whims of someone who hasn't eaten in four and a half weeks." I'd say she's sassy, but Dunham whipped out that commentary with such complete sincerity, it'd be a disservice to bring it down to the level of a Honey Boo Boo head wag. 
12. She Actually Loves the Character of Adam, And No, Guy-She-Made-Out-With-Once-In-College, That Character is Not Based on You
It's no secret that Dunham pulls much of her material for Girls from her own life, especially for Hannah's friendship with Marni (Alison Williams), which is based on Dunham's relationship with her best friend. But guess what? The guys come from real life too. Even Adam. But apparently everyone she's ever flirted with seems to think her male characters are derived from themselves. "It's amazing how many guys want to take credit for the dicks I write about," she laughs. Of course, while many of us might put Hannah's boyfriend (or something) Adam on that list, Dunham insists he's no villain. "There's a lot of love in that character. I adore that character," she says. And while it may be hard for many of us to get past Adam's strange dirty talk about Hannah being a young girl, Dunham's defense begs a closer reading of a character many of us simply wrote off. 
12b. One Of Those Male Characters Will Pull His Experience from Judd Apatow
The episode hasn't aired yet, but Dunham says she'll use an instance from Apatow's past: He told a girl he loved her and she snapped back with "See, it's always about you!" It's okay, Judd. Your life clearly turned out okay. 
13. There's Good Reason Behind The Plentiful Sex Scenes In Her Work
For starters, she's always been that way. "I've been writing about sex since the first second I learned was sex was," she says. But it wasn't just some perverted or carnal fascination with the horizontal mambo, she says she saw a hole in the cinematic depiction of sex. "The missing link for me was the presence of bodies I understood," says Dunham. And being that she's been singled out for her very un-Hollywood body, that makes sense. She says she grew tired of films that seemed to be so aware of the presence of the audience when filming sex scenes, citing the example of Reese Witherspoon waking up after a one-night-stand in a James L. Brooks movie wearing a cute little nighty. She says she thought, "I can't handle you Hollywood." And anyone who's seen her sex scenes on Girls knows she's doing everything she can to combat that picture-perfect movie sex none of us will ever have. 
If you're not a Lena Dunham fangirl (or fanboy) by now, you probably never will be. Just don't tweet your distaste at her and expect an answer.