What Super Disgusting Thing Happened During Paul Rudd's New Play Last Night?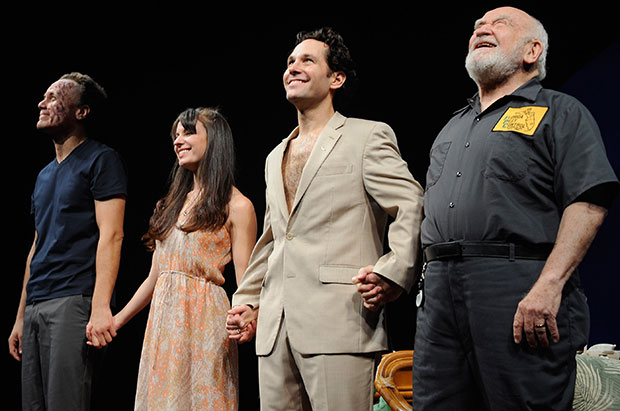 Everyone who has ever sat in the orchestra at a Broadway show has looked up at the mezzanine and wondered what would happen if someone fell off the balcony and into the crowd. Well, something worse than that happened last night at a performance of Grace, the new black comedy starring Paul Rudd, Michael Shannon, and Ed Asner: someone on the balcony puked onto the crowd below. That's right, he barfed, hurled, vomited, upchucked, blew chunks, heaved, tossed cookies, retched, spewed, did the Technicolor yawn. And right onto the audience.
The blog Gothamist first reported the incident, revealing that a drunk patron caused the kerfuffle. At the end of the show Rudd, who returned to the stage after his curtain call with the rest of the cast, told everyone what happened before raising money for Actor's Equity. Daily Intel confirmed the incident and had a more detailed account, saying that the theatergoer was elderly, and possibly drunk, but also possibly ill. After chucking, the man apparently passed out — 20 people gathered around him and someone called 911. He eventually walked out of his own volition. So, we don't know if he was drunk or ill, but, either way, we hope he feels better today… and is ready for some hefty dry cleaning bills.
And what did the actors do while all this was going on? Well, you know what the old adage says: "The show must go on!" They kept going, even though Rudd was trying to get a glimpse of what was happening, and Shannon got noticeably louder and a bit annoyed. The way people behave at the theater these days… it's enough to make you sick.
Follow Brian Moylan on Twitter @BrianJMoylan
[Photo Credit: Gary Gershoff/WireImage]
More:
Paul Rudd, Michael Shannon, Ed Asner to Grace Broadway This Fall
'Les Misérables': Can Famous Faces Replace the Broadway Stars?
'Glee' Recap: Blame It On the Alcohol

Prince Harry's 'Naked Vegas Party Pal' Carrie Reichert Writing a Tell-All Book — EXCLUSIVE
(Celebuzz)