Which Handsome Hollywood Star Is Hiding Under This Scary Puppet Head? — PHOTO
Forget Bigfoot, let's solve the mystery of the hot Hollywood star roaming the forest in Enniskerry, Ireland in a giant scary puppet head. But who is he and why was he spotted wearing what appears to be something out of a Deadmau5 fever dream? For starters, he is one of the most renowned, celebrated actors today with a fervent fan base that borders on obsessive. The Golden Globe-nominated (another clue!) actor was on his third day of shooting an upcoming film and covered up his very handsome mug with something that looks like it should be floating in a parade. A parade of nightmares. Check out the image below and see if you can guess who it is.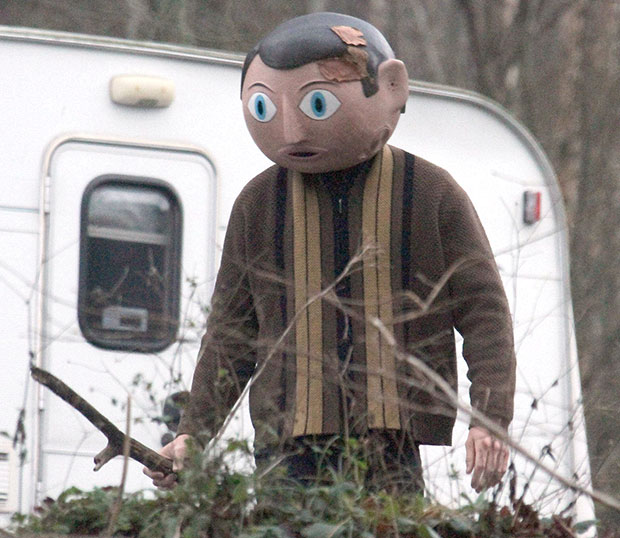 Got it yet? No, it's not Jack McBrayer on location, but good guess. Here's some more clues:
– While he hasn't played a giant puppet head before, he has played someone — or rather something — that isn't human, but has a lot of human characteristics.
– It's fitting that he is in Ireland, because that is half of his heritage.
– While he's rarely mistaken for a giant puppet head, some fans think he resembles a certain sea creature.
– He's holding a giant stick in this picture. A stick. That should be a giveaway, really.
That's right, it's….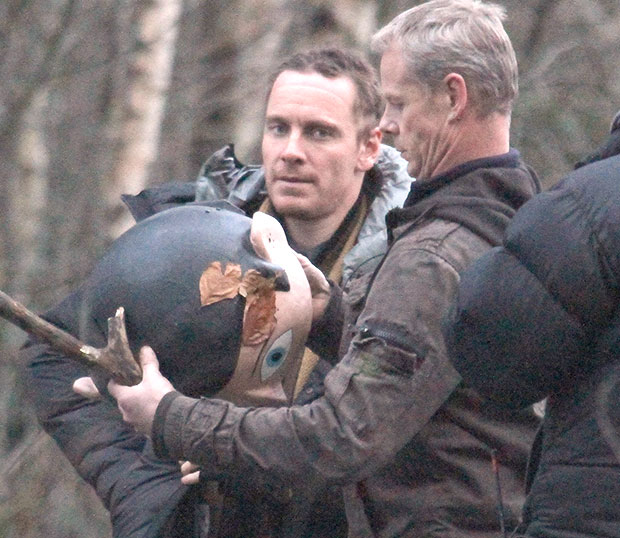 Yep, that's the Prometheus star hiding his sexy, if not shark-like, face and donning a Frank Sidebottom-like replica head for his latest project Frank. In the trippy-looking film (which appears to be his M.O. lately, as evidenced by his recent jaunt in the desert with Terrence Malick, Natalie Portman and Lizard Man), which also stars Maggie Gyllenhaal, the 35-year-old German/Irish actor plays the leader of a mysterious indie rock band on tour. I mean, he's gotta take that thing off eventually, right?
[Photo credit: Mark Doyle/Splash News]
More:
'X-Men': Fassbender, McKellen, McAvoy, Stewart Unite for 'Days Of Future Past'
Charlize Theron and Michael Fassbender Get Their 'Fifty Shades of Grey' On — PICS
Fassbender Filming a Scene with Gosling? Internet Hangs in the Balance — PHOTO

Celebs as Kids: Guess Who? (Celebuzz)