Just Who Are YouTube Award Winners Girls Generation?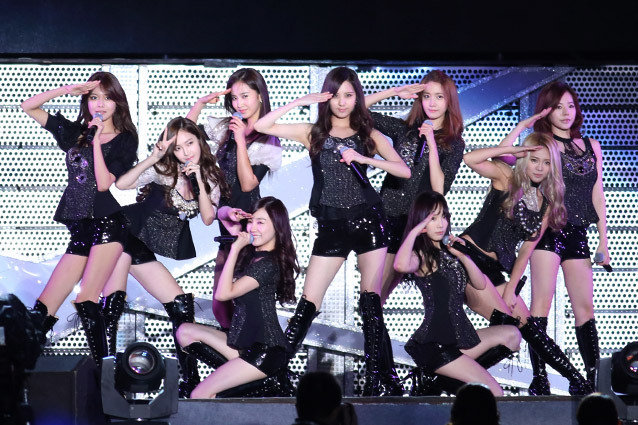 Getty/ChinaFotoPress
Despite being nominated in the same category as Miley Cyrus' "We Can't Stop," One Direction's "Best Song Ever" and Lady Gaga's "Applause," it was South Korean pop sensation Girls Generation who walked away with the Video of the Year gong on Sunday's inaugural YouTube Awards. The near-silence which greeted their victory proved that their hyperactive candy-coated synth-pop sound hasn't yet crossed over to Western audiences in the same way as PSY. But for those who were intrigued by the neon-lit sugar rush of their winning track, "I Got A Boy," here's a brief guide.
They are the product of South Korea's rigorous pop factory
The group were formed by SM Entertainment's training system in 2007 as a female alternative to the successful boyband Super Junior.
Two members hail from the USA
The nine-piece outfit feature two members who were born in San Francisco – Jessica Jung, who moved to Korea aged eleven, and Stephanie 'Tiffany' Hwang, who did the same aged fifteen.
They are pop royalty in Korea
After peaking at No. 2 with their 2007 self-titled debut, the girls went onto reach number one in their homeland with their subsequent three albums and have also scored ten chart-topping singles.
Japan have also succumbed to their charms
The group decided to expand their reach in 2010 by targeting the Japanese market and went onto achieve the highest ever first-week debut album sales for a foreign act.
They have performed on David Letterman
Produced by former Blackstreet frontman Teddy Riley, 2011 single "The Boys" was chosen to launch their bid for US success and although it failed to chart, the group did manage to secure an appearance on the Late Show With David Letterman.
They're not afraid of endorsements
Putting the Spice Girls list of endorsements to shame, the group have put their name to hundreds of products over the years ranging from throat lozenges to gasoline to chicken.


There's a Girls Generation spin-off
Not content with conquering South Korea as part of Girls Generation, Taeyeon, Tiffany and Seohyun then formed spin-off Girls Generation-TTS in 2012 and went onto top the Billboard World Albums chart with their debut EP, Twinkle
Follow @Hollywood_com