Who Has Miley Cyrus Been "Dating" Since Liam Hemsworth?
When Miley Cyrus and Liam Hemsworth broke off their engagement in September of 2013 rumors flew about who Miley moved on with. Though recent photos seem to have proven that she has a new leading man, we've got a timeline of the men Miley has been linked to.
1. Mike Will Made-it
fuckyeahmileyfashion.tumblr.com
Sources revealed to Us Weekly that Miley had been dating her Bangerz producer, Will Made-it shortly after her split from Liam. Sources claimed that the producer, 25, and singer, 21, made time to see each other despite her being on tour.
Though Miley told Ellen Degeneres that she didn't have time to date right now and was "obsessed with being alone," they were rumored to be kissing and grinding at her album release party just a month after the break up.
2. Benji Madden
x17online.com
The guitarist of Good Charlotte, Benji Madden, and Miley were caught making out and leaving the club together on Halloween of 2013. They were apparently introduced to each other at Adam Lambert's party that night.
Other sources claimed they were only "party pals" and that Miley wasn't "into him like that." Sources seemed to believe that the pair was a one-time-only thing.
3. Kellan Lutz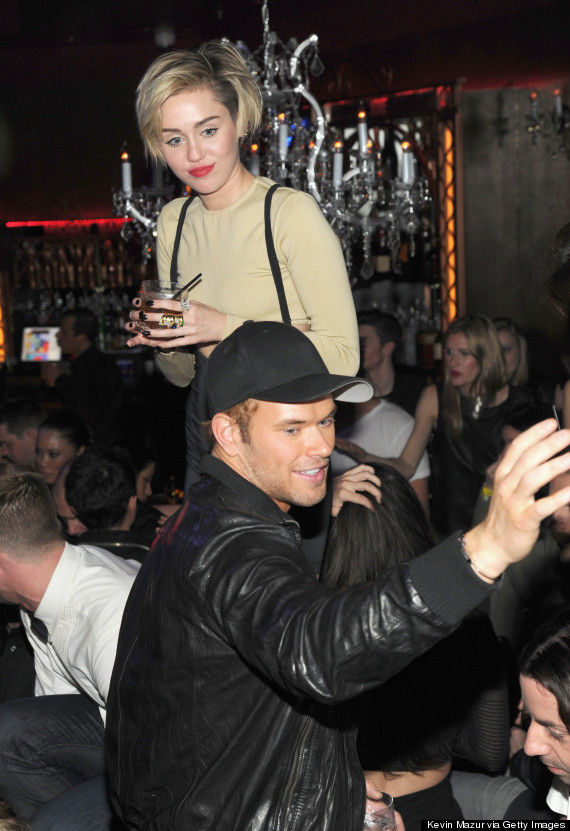 huffingtonpost.com
This January, Kellan Lutz, 28, and Miley were rumored to have a "quick fling." According to E! News, eyewitnesses saw them making out in Las Vegas and Miami. Other sources said that they were "never serious" and that it was always meant to be a short-time, fun thing.
The Twilight actor did talk to Ryan Seacreast on his KIIS FM radio show saying that he had been friends with Miley for about six years, and they had the same friend group. He clearly still thought well of her, because he called her a "cool, secure woman."
4. Theo Wenner
celebrities.ninemsn.com
The son of Rolling Stone founder, Jann Wenner, was rumored to be dating Miley around November of 2013. Theo, 26, had dated celebrities in the past and was called a "ladies' man" by his classmate, Nick Clifford.
Theo actually photographed Miley topless for the October Rolling Stone cover story. Sources claimed that she was interested in Theo ever since. They claimed she even left a Saturday Night Live party early to hang out with him.
5. Jared Leto
usmagazine.com
In January, Jared Leto, actor and 30 Seconds to Mars front runner, was seen with Miley at the Clive Davis' pre-Grammys bash. From there, sources began to tell US Weekly that the pair was "hooking up" and having sleepovers at his house in Los Angeles.
Sources also stated that the pair had a lot in common: "They like to have a good time, they love to talk about art and music- and they're both comfortable with nudity!" This sparked rumors that the pair were getting closer, but no comment was ever made from either party.
6. Douglas Booth
dailymail.co.uk.com
After a photo was snapped of Miley and her LOL costar, Douglas Booth, in West Hollywood, people automatically decided the actors were dating. Sources claimed they were "laughing and flirting" with each other at Soho House and that they looked "very intimate" with each other.
Douglas quickly shut that down by telling E! News at the Toronto International Film Festival that she was just a friend.
7. Patrick Schwarzengger
eonline.com
We've all seen the photo of the pair kissing on the sidelines of the USC game, but they have been inseparable ever since. According to E! News, there was a dinner date on Friday and another date at The Nice Guy in West Hollywood on Saturday evening. Eyewitnesses say that "they seem so happy together!"