Who's Winning the Post-Olympics Promo Race?
Gather 'round, boys and girls because it's time for the greatest competition of our time! It takes brute strength, determination, discipline and intelligence. It takes practice, hard work, and athletic prowess. It is the Post-Olympics Promo Race! And boy-oh-boy is it a doozy this year!
As our Olympians return home to their native American shores, the press that couldn't stop everything and run off to foggy Londontown finally get a chance at chatting up the super-athletes on their plans for life after the Olympics. And we all know snagging those all-important post-Olympic gigs are good indicators of where your career will head. So we've taken the top three (Michael Phelps, Ryan "JEAH!" Lochte, and the Fierce Five) athletic juggernauts and rated them on a scale of 1 to 10 (1 being worst; 10 being best) based on a series of competitive factors such as humor, charm, and career-makeability. See whose cup(s) runeth over and who's got fifteen minutes left on their fame clock below!
Michael Phelps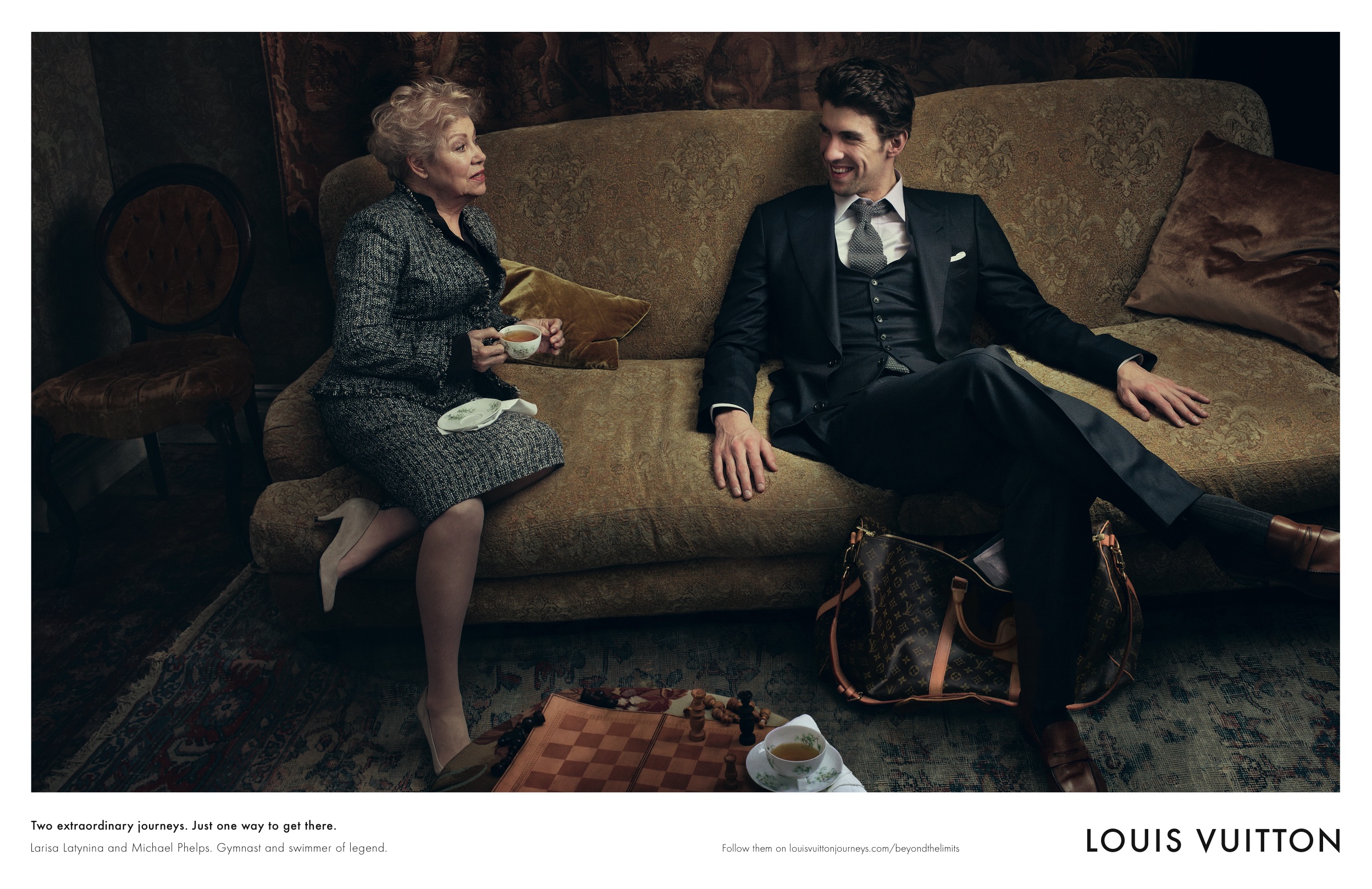 This isn't Phelps first time at the rodeo, which puts him at both an advantage AND a disadvantage. He's a name people recognize, he's got approximately 8,456,921 gold medals, and he's proven his star power in the years past. But this also makes him old news to some people. They're looking for fresh meat! Can Phelps use his impending retirement to give him a new angle for promotion? All signs point to yes, as his new Louis Vuitton ad with iconic former Soviet gymnast Larisa Latynina, proves. It's a classy spread, and places him squarely next to his other historic athletes. What's his score?
Humor: 5
Charm: 7.5
Career-Makeability: 8
Total: 20.5
Ryan Lochte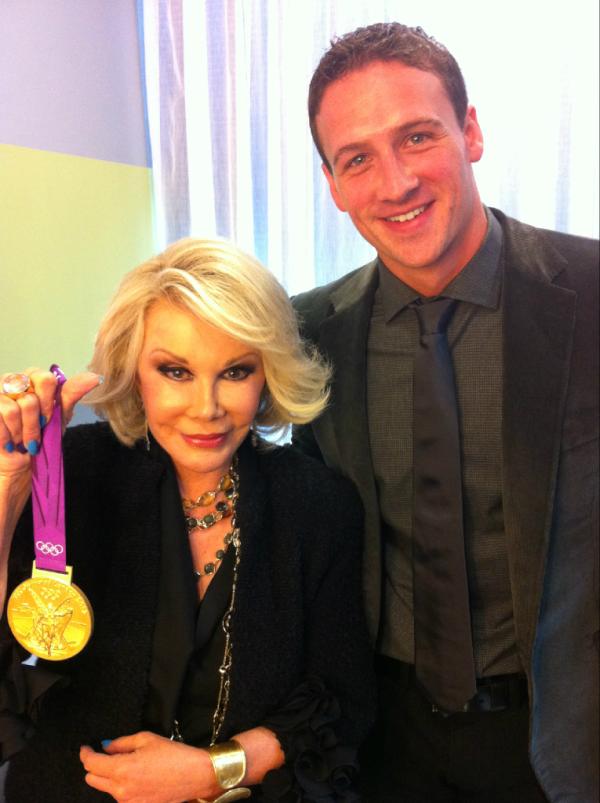 Ryan Lochte took the Olympics by storm for becoming America's No. 1 Most-Lovable D-Bag/Pool Pee-er. And Mr. Popular hasn't stopped for even a second since he made his way back stateside. Not only is Lochte showing up at things like the The Expendables 2 red carpet, he's snagged a guest spot on 90210 and, according to E!, is "more than willing to do Dancing With the Stars." Not only that, but recently Joan Rivers tweeted an image of the gold medal winner after he taped his appearance on Fashion Police today. So what does this flurry of activity mean for Mr. Lochte? Does he make the grade?
Humor: 8
Charm: 6.5
Career-Makeability: 4
Total: 18.5
The Fierce Five
It's going to be really hard for the boys to beat the charm factor on display with the ladies of the Fierce Five. First of all, neither of them are as adorable as Gabby Douglas, as hilarious as Aly Raisman's mom or unimpressed by it all as McKayla Maroney. Plus, these girls know that the best way to create a long, solid career is to work your way up to the top by starting off as interns. And for someone as well-respected as Stephen Colbert? Well, ladies, we think you really did quite well for yourselves. If only all internships had the security and safety of a landing mat. Now go cartwheel tumble, and handstand me a latte, STAT! But not before we judge you, of course.
Humor: 8.5
Charm: 8
Career-Makeability: 6
Total: 22.5
Well it looks like the ladies were no match for the men. The Fierce Five is on top with the gold, only just eking past Phelps with the silver, and Lochte with a bronze. Not too shabby, kids. Did they make the right decisions, or will the odds shift over the coming weeks? Only time will tell, but it's safe to say that it's anyone's game at this point.
Do you think these Olympians' appearances make the grade? Did we land our assessments? Sound off in the comments!
[Photo Credit: Louis Vuitton, @Joan_Rivers]
Follow Alicia on Twitter @alicialutes
More:
10 Suggestions for Ryan Lochte's Future Reality Show
Michael Phelps To Appear On Golf Series That's Somehow Not Called 'The Golfin' Dolphin'