Who Wore Big Ang's Lips Best?: Kris Jenner or Big Ang? — PICS
Big Ang: You know her, you love her, you watch her regularly on The Soup even if you don't watch Mob Wives. Not only is the reality star known as the fun-loving, no drama, tell-it-to-you-like-it-is sort of gal, but she is also one to be quite candid about her multiple body enhancing surgeries, which include three boob jobs, a tummy tuck, liposuction, and of course, lip injections. This brings us to her lips — the most infamous lips to ever pucker up and blow a kiss in reality world. 
Or are they? (M. Night Shyamalan says
"Twist!"
) In Sunday night's episode of Keeping Up with the Kardashians, Kardashian momager
Kris Jenner
showed up on the screen with a mighty puffy pout.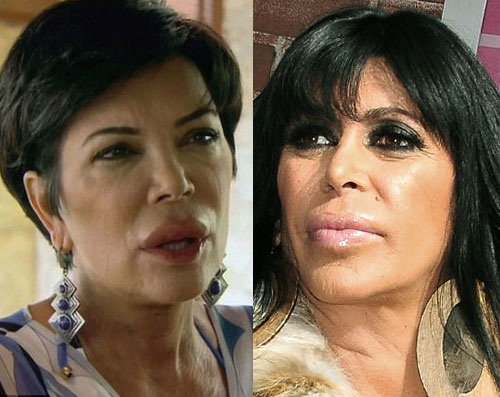 While some believe that she had undergone a Collagen or Restylane treatment to enhance herself, Jenner claimed that her blown-up lips were the result of a food allergy. Whatever the truth might be, she still has given Angela Raiola a run for her money.
Now we ask you, in this face-off, who does Big Ang's lips better: Big Ang or Jenner? Share your thoughts below!
[Photo Credit: Courtesy of E!; Wenn.com]
More:
Kris Jenner Shares Naked Pregnancy Photo
Kris Jenner Talks Kim Birth Control, Kanye, and More on 'Bethenny'