Who Wore it Better: Jennifer Aniston or Justin Bieber? — Battle of the Baggy Jeans
Why so baggy, Jennifer Aniston? The actress was spotted arriving at the Los Angeles International Airport on Saturday (courtesy of X17 Online), sporting a navy blue blazer, white tee and a pair of very baggy jeans that can only be described as drop-crotch cuffed boyfriend jeans. Or something worn by the cast of She's All That. The jeans almost look like they belong on the one and only Justin Bieber, who's widely known for his baggy jean collection (just ask Ellen DeGeneres).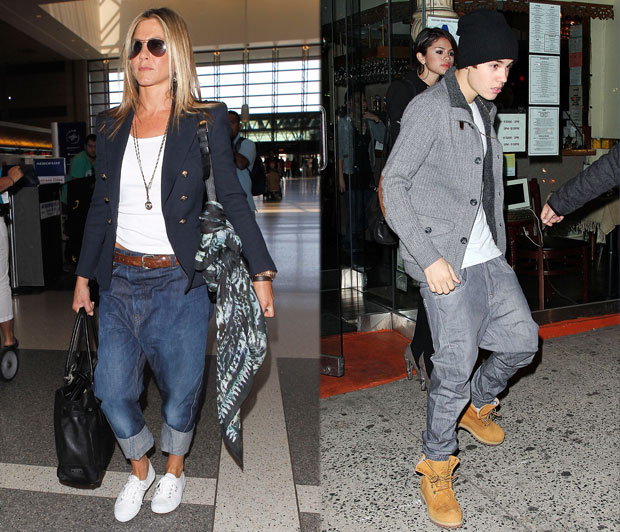 Time for a trouser off! It seems only appropriate (is appropriate the word?) to have a battle of the baggy jeans face-off to see which star pulls off the droopy look better. So what'll it be: America's Sweetheart or Bieber Nation? Sound off in the comments below, take our survey, and for goodness sakes, pull up your pants!
[Images: X17, PacificCoastNews.com]
More:
Megan Fox Looks Very Pregnant, So Why Won't She Admit It? — PICS