Why 2012 Was Not 'The Year of the Woman'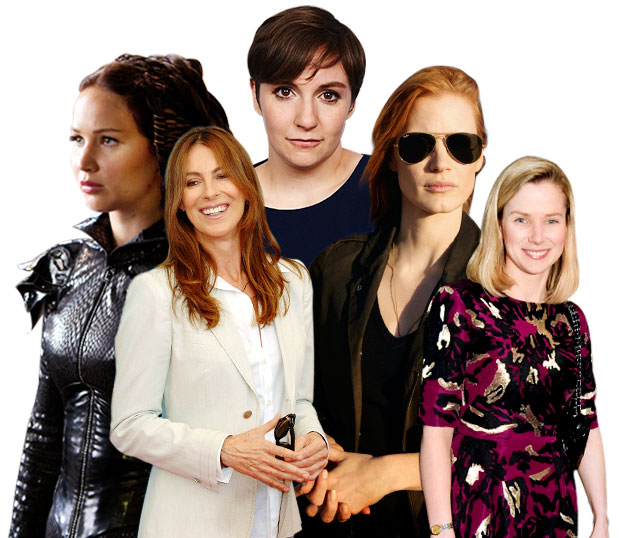 Pictured (from left to right): Jennifer Lawrence in 'The Hunger Games,' Kathryn Bigelow, Lena Dunham, Jessica Chastain in 'Zero Dark Thirty,' and Yahoo CEO Marissa Mayer
If you have eyes, the ability to read, and Internet access, you've probably read an article at some point this year about The Magnanimous Excellence of The Female Species and How Women Shall Inherit The Earth As Men Go Running Scared Into Oblivion. You'd think some Amazonian tribe of women was running rampant, snatching up cities across the U.S. and claiming the land for all possessors of lady parts. Sometime in the past 12 months, we decided that 2012 was the year of women, especially in the entertainment industry. But that's not exactly true.
What 2012 actually is, is a year of some women. But our oversimplification of the status of women this year is understandable, however inaccurate. When our discourse is dominated by proclamations of women "dominating" the Senate after a record 20 women won their respective elections, the "high" number of female showrunners in television, Marissa Mayer's corporate domination as a working mother and CEO of Yahoo, Lena Dunham's ability to project all of our neuroses on national television in a thoughtful and powerful way, and the notion that film characters like The Hunger Games' Katniss Everdeen (Jennifer Lawrence) and Zero Dark Thirty's feminist-dream Maya (Jessica Chastain) signal girl power as the new norm, it's no wonder we feel that women in 2012 hold more weight than ever. But perhaps it's not the events themselves that are noteworthy, but rather our great proclivity for the discussion.
GALLERY: 15 Kick-Ass Cartoon Babes
"I think 2012 is a year in which women have a really powerful appetite to celebrate powerful women and our questions about where and when women are not powerful," says Clare Winterton, Executive Director of the International Museum of Women. "The rate at which we've given due to those issues is very high. Whether or not that visibility is matched by concrete signs of advancement for women across the board is a big question," she adds. The discussion around women and women's progress, in Hollywood and elsewhere, has been given great wings in 2012, but it certainly doesn't mean that suddenly, just before the Mayans predicted the downfall of civilization, women have "done it." It's still a work in progress, but one that saw a few significant boosts this year.
It's something co-producer and co-screenwriter for The Hobbit: An Unexpected Journey, Philippa Boyens, has experienced firsthand. "I just did a producers roundtable, which was fantastic, and there were lots of female producers … there was once a time when there wouldn't have been any women at that table, but now we make up half the table," she says. And Boyens' moment isn't a singular piece of evidence for women advancing in entertainment.
Hollywood in 2012 boasts a laundry list of lady-led accomplishments. More and more women, like New Girl's Liz Meriwether, Don't Trust the B in Apartment 23's Nahnatchka Khan, and of course Girls' incomparable Dunham, are running things behind the scenes of some of pop culture's most talked about shows. Zero Dark Thirty, Kathryn Bigelow's follow-up to her Oscar-winning film The Hurt Locker, and its impressive heroine are wowing critics as the film quickly rolls towards yet another Best Director nod for Bigelow. The Venice Film Festival made headlines this year because unlike Cannes — which failed to qualify a single female director for the illustrious Palme d'Or award — it offered up four main competition spots to female directors (albeit out of a whopping 17 spots). USC film school, one of the top in the world, cites an undergraduate class that is almost half women (41 percent, to be exact), suggesting the promise of more and more great women behind the camera. Even film critics like AP's Christy Lemire and LA Weekly's Karina Longworth continue to be significant voices in a male-dominated conversation, and Emily Nussbaum has just completed her first year as the voice of TV criticism for The New Yorker and as one of the top voices in the field itself. And while this lineup may be enough to send some of us into the streets crying, "We've made it, ladies!" it's not time for that. Yet.
"The field is so much bigger now," says independent filmmaker and NYU film school professor Christine Choy. "But I can still count the great female directors on one hand … and in general, they don't last too long," she adds. For every Dunham and Bigelow, we find a handful of forgotten directors like Winter's Bone director Debra Granik, whose name faded into the background after they rolled up the red carpet at the 2011 Academy Awards. And while folks like Bigelow and Dunham certainly seem to be standing the test of Hollywood time — which tends to move even faster than that speedy New York minute — they can't single-handedly change the face of the unarguably male-dominated entertainment industry. "One director is not enough," says Choy.
And that's because progress don't simply manifests itself like a happy ending in a princess movie. The reality is a little more complex, as is the goal of equalizing the positions of women and men in entertainment. Our infatuation with the progress made by our real-life heroines doesn't change the fact that they're just starting to get the ball rolling.
"It's a fair assessment to say women aren't progressing as fast some of the popular representations of women would like you to believe," says Winterton. Successes on the scale of Marissa Mayer and Bigelow obfuscate the indicators of the work that's left to be done, like the fact that 2012 saw almost no growth in women holding top positions at Fortune 500 companies or the fact that for every woman who's a noteworthy director or showrunner in entertainment, there are legions of men outnumbering her.
While 2012 delivered us legions of powerful female characters – even Twilight's Bella pulled ahead of her brooding lover as a hero in the series' final installment this November – and powerful women, it came with the pall of the realization that the world hasn't exactly caught up. Body shaming was rampant in coverage of some of the most successful women on the planet: Lady Gaga, Jessica Simpson, and even Adele were subject to chatter about their weight, completely undermining the level to which all three of these women are dominating their industries (Simpson, of course has a wildly successful clothing and accessories empire). Acclaimed author Bret Easton Ellis brought the discourse down several notches when he claimed Bigelow's work was only acclaimed because she's "a very hot woman." The woman behind the female empowerment tale Brave was outed as the film's director due to "creative differences" – a change many some critics fear will mar the progress of female animation directors.
If 2012 proved anything it's that the work is not done. If anything, the conversation is just getting started.
Follow Kelsea on Twitter @KelseaStahler
[Photo Credit: Photo Illustration by Hollywood.com; Photo Credits: WENN (2); WireImage; Lionsgate; Columbia Pictures; Disney/Pixar]
---
From Our Partners:


40 Most Revealing See-Through Red Carpet Looks (Vh1)


15 Stars Share Secrets of their Sex Lives (Celebuzz)