Why You Should Know and Love Ray Winstone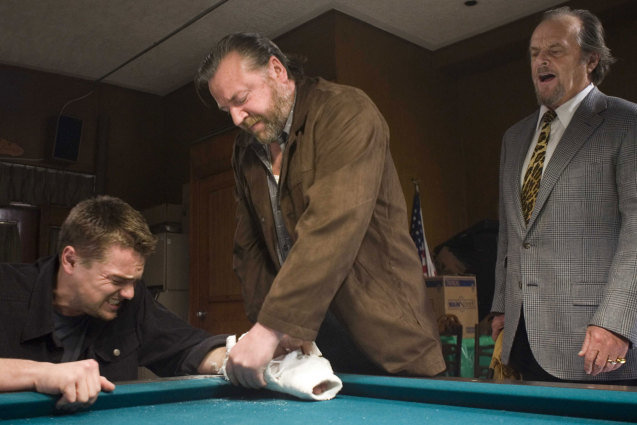 If presented with a picture of Ray Winstone, you'll probably think to yourself, "Oh yeah, that guy." He looks familiar because there's a good chance you've seen one of his movies. The character actor has been in some major films over the last 10 years, such movies as Cold Mountain, The Departed, Hugo, and Snow White and the Huntsman, but you've probably never heard of him. Well here's your chance to get to know him with six fun facts about the British chameleon, who you'll no doubt be seeing plenty more of on the big screen.
You Probably Know Him Best From Sexy Beast
His most prominent role was in Sexy Beast, in which Winstone played the lead, Gal Dove, opposite villain Ben Kingsley. Winstone's performance in Sexy Beast as a loveable but hapless retired ex-con is solid, but he was unerstandably upstaged by Kingsley's rapid-talking, short-tempered psychopath, a role that garnered Kingsley an Oscar nomination. 
Or Maybe The Departed
Martin Scorsese's wildly successful The Departed put Winstone on the map once again as tough guy Mr. French. His character is one of the most memorable in a stellar ensemble cast that includes Jack Nicholson, Leonardo DiCaprio, and Matt Damon. To audiences, he's the guy who slams Billy's (DiCaprio) arm cast on the table so hard it breaks, while Billy screams in pain, and as the guy who wryly repeats the film's infamous line, "What is it, your period?" when Billy orders a cranberry juice.
He Played a Dwarf
In a departure from his tough-guy roles, Winstone played one of the dwarves in 2012's Snow White and the Huntsman. Perhaps it's his physical stature, or just his incredible range as an actor, but he really made his character, Gort, come to life, and he gave him that rough-and-tumble edge that he gives all of his characters. So I guess his dwarf was a tough guy after all.
Scorsese Seems to Love Him
After his turn in The Departed, Scorsese decided to cast Winstone in Hugo, in which he plays the title character's alcoholic uncle Claude. Though this was a smaller role for the British actor, we feel safe betting that the legendary director will seek him out again in the future.
He Does Action Movies Like The Sweeney
Even at the age of 56, he still gets down and dirty in gritty action movies like 2012's The Sweeney, in which he plays Detective Inspector Jack Regan, who leads the London Metropolitan Police department's Flying Squad, aka the armed police. Not only does Winstone beat people up and partake in car chases, but he also gets raunchy with Hayley Atwell's character. Not too shabby.
His Voice
Winstone has the kind of gritty voice and Cockney accent that lends well to the screen, so much so that it's often just his voice. Winstone has done several voice-over roles, including Rango, The Chronicles of Narnia: The Lion, The Witch, and the Wardrobe, and Beowulf. So even if his face doesn't look familiar, you've probably at least heard him on screen.
More:
Star Watch: 5 New Stars on the Rise
'Mr. and Mrs. Smith' Is More Than Tabloid Fodder
What Would Jason Bourne Do?
---
From Our Partners:


40 Most Revealing See-Through Red Carpet Looks (Vh1)


15 Stars Share Secrets of their Sex Lives (Celebuzz)