Will Daft Punk's New Album Be Harder, Better, Faster, Stronger?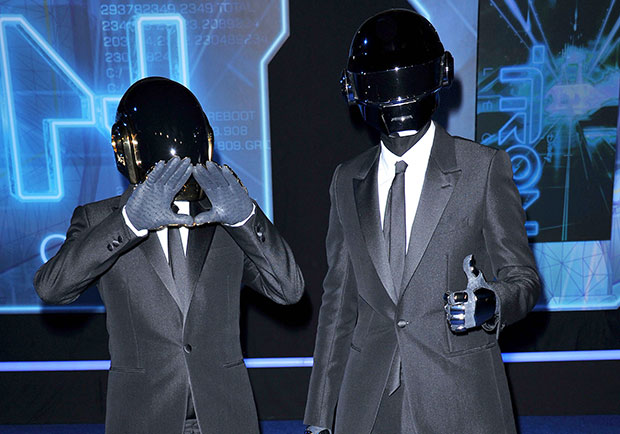 With the confirmation that French DJ duo Daft Punk have signed with Columbia Records, rumors of a new album are getting harder, better, faster, stronger.
The band has been highly influential on the dance and DJ scene for years, but most will know them from Kanye West's Grammy Award-winning 2007 tune, "Stronger." It was Daft Punk's "Harder, Better, Faster, Stronger" that was sampled on the track to give it its electric edge and chorus. Previously, the duo put out the majority of their recordings through EMI's Virgin Records, so the signing is a huge get for Columbia Records. Hollywood.com has reached out for confirmation, but did not hear back at the time of publication.
Rumors about the new album have been circulating for months — especially after famed dance producer Nile Rodgers discussed his work with the duo in a video from August at the UK's Camp Bestival. And his praise for their collaborative efforts certainly didn't quell any rabidity, either, explaining that Daft Punk are "geniuses" and that his work with them is "as great as being in the studio with [David] Bowie. It's as great as being with [Rodger's famed disco/funk band Chic's] Bernard Edwards. It's as great as the best stuff I've ever done with Duran [Duran] or Madonna." That is no small amount of praise, coming from as accomplished a producer as Rodgers.
And those rumors continued to gain traction after a continued series of tiny divulgences that included a post on Rodgers' own blog, featuring a photoshopped image of the producer with the band. In the post titled "2013 Won't Be Boring," Rodgers makes only a brief mention of the duo — "The next time I set foot in Japan, my collaboration with Daft Punk would have started to hit people's eardrums" — but seems to confirm the suspicions that a release in 2013 from the group is imminent.
If a new album by Daft Punk is indeed coming out in 2013, it would be the group's first since 2005's Human After All — their fourth overall, not including their contributions to the 2010 Tron: Legacy movie soundtrack.
When the album comes out, will you be pulling a LCD Soundsystem and have Daft Punk playing at your house (at your house)? Let us know in the comments (and don't forget to set them up, kid. Set them up)!
[Photo Credit: WENN]
Follow Alicia on Twitter @alicialutes
More:
Coachella 2013 Lineup Finally Revealed … Yay?
Chris Brown Allegedly Punches Frank Ocean in a Parking Lot
Beyonce's Super Bowl Set List Is Mostly Destiny's Child and That's Not Okay

20 Hottest Celebrity Bikini Bodies