Will Justin and Selena Go the Way of Justin and Britney?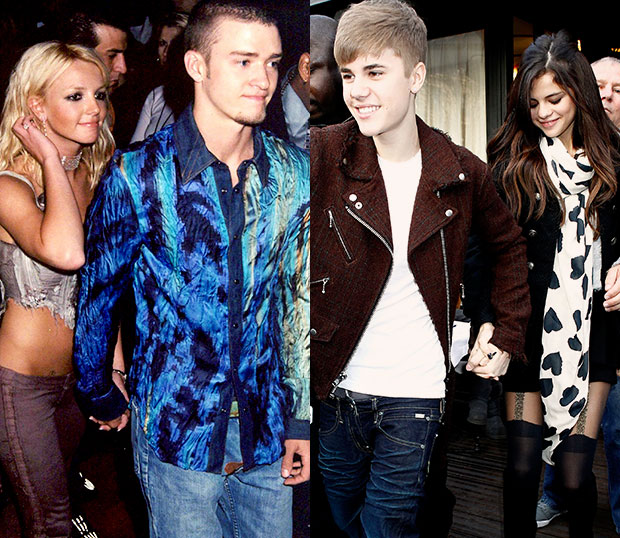 This is one for the history books: Jelena shippers will forever remember what they were doing the moment they learned that Justin Bieber and Selena Gomez decided to go their separate ways. News of the breakup, which broke on Saturday morning, rang in the ears of young fans like the sudden smashing of optimistic young love against the jagged rocks of cynicism and despair. A hundred trillion 13-year-old girls collectively sobbed the sobs of one who no longer believes in the sanctity of young love. But for those of us who have made it through our teens years, this tale of first love and loss is a familiar one. Ten years ago, we survived our own piece of teen celebrity tragedy when the young and beautiful Britney Spears and the young and beautiful Justin Timberlake ended their relationship. And now, history repeats itself with Bieber and Gomez. Let's call it the Great Justin Breakup: Part 2.
From its inception, Jelena was not so different from Justin and Britney (which existed before celebrity couple names was a thing — that started with Bennifer in 2002). All four were teen heartthrobs in their own right, had burgeoning careers in the music industry and on TV, and had legions of fans who vowed to follow them to the ends of the Earth. And now, both couples are dunzo. The question is, will Jelena — now separated back into the individual identities of Justin Bieber and Selena Gomez — continue to follow in Justin and Britney's footsteps? We think probably yes.
Following the Great Justin/Britney Breakup of 2002, Timberlake's solo career took off. He released his album Justified that same year, then the incredibly popular FutureSex/LoveSounds in 2006. Meanwhile, he also tried his hand at acting by starring in Alpha Dog and providing voice work in Shrek the Third. And through his rise to the top, Timberlake dated a string of A-list ladies, including Cameron Diaz and now-wife Jessica Biel.
Britney Spears, however, steadily spiraled into a mess of bad relationships and terrifying career choices. While Spears' 2003 album In the Zone was a hit, it's more "scandalous" subject matter also foreshadowed what would be the beginning of her descent. Following the album's release came Spear's 55-hour marriage to childhood friend Jason Alexander and then her engagement to backup dancer Kevin Federline. Then came marriage, then came babies, then came divorce. Now, while Spears seems to have gotten her career back on track with her X Factor judging gig, she will forever be remembered as the crazy pop star who shaved her head in 2007.
And that brings up to the present, where we have a different Justin and his failed love to deal with. Will Bieber now go the way of Timberlake? Will his future be filled with hot, megafamous ladies and roles in Oscar-worthy movies? And will Selena's life slowly decay, one poor boyfriend choice at a time? Eh, maybe. But more likely, we feel, is that Gomez's life is the one that will be filled with high profile relationships and critically acclaimed work.
For proof, let's look at what we already know. Gomez has hits in music, TV, and film, and this year she stepped out of the Disney bubble to star in the edgy Harmony Korine-directed feature Spring Breakers. Bieber, meanwhile, had a paternity scandal and headline-making haircut. I'd say he's one animal accessory at an awards show away from following in Britney's footsteps, but he already walked the red carpet with a rat. Hold on to your hats, Beliebers, this could be one wild ride.
Follow Abbey Stone on Twitter @abbeystone
[Photo Credit: Wenn]
More:
Selena Gomez Dumps Justin Bieber, Earth Spins Off Axis — Reports
Team Justin or Selena. Whose Side Are You on?
Justin Bieber and Oprah Winfrey Combine Forces in Biggest Pop Culture Event Ever!

Selena Gomez Flies Out of Los Angeles Following Justin Bieber Split (PHOTOS)
(Celebuzz)