Will Smith Confesses, 'I Kicked a Kid in the Face and Broke His Nose'
Will Smith is a lover, not a fighter. So imagine his horror when he accidentally hurt someone so bad on the job it made him switch paths from karate (Smith confesses he originally set out to do karate …who knew?) and set different goals for himself.
"I took karate and [I had] the option between tap and ballet to improve my karate and they said ballet would improve it a lot and tap dancing would be more fun, but wouldn't improve it," Smith admits to Hollywood.com. "I said, 'Well I want to be the best!' I took ballet and went to this big tournament and I'd gotten more flexible due to ballet and I kicked a kid in the face and broke his nose. He was bleeding all over the place and crying and after that, I just didn't want to hurt people so I just stuck to ballet." 
Smith instead decided to by the way of the "starving artist" and go a different route entirely. "There's a lot of weeks where Ramen is your best friend," Smith said. Of course, that's not the only misconception about Smith's job. "[The biggest misconception is] that we're wusses," he said, adding that one of the perks of his job is that "you get to be around girls all the time." 
RELATED: 'After Earth': It's the End of the World, But Will and Jaden Feel Fine — TRAILER
Of course, having a name as recognizable as Will Smith doesn't mean it comes with its fair share of expectations from the outside world. Whether it's asking Will Smith why he turned down Django Unchained turned out or asking Will Smith what it's like to be, well, Will Smith. "Every day. It's constant," Smith said of people having certain reactions when he's in public. "I walk into auditions. 'Is Will Smith here?' 'Will Smith?!?' Walk into a restaurant, 'Will Smith?!' And then they're kind of disillusioned when they see me, they're like 'Oh…' I'm like 'What am I not good enough?'" he said during his chat with Hollywood.com 
RELATED: Why Will Smith Turned Down 'Django Unchained' 
Smith, who said when he does get a moment of free time with his incredibly busy schedule that he enjoys playing BioShock, still wouldn't change a thing, not even his name. ("Will just sounds way cooler" he said of his fresh name). In fact, Will Smith is a pretty big admirer of Will Smith all around, citing that Independence Day is his best work. "That's when he was at the top of his game," said Smith, a 26-year-old ballet dancer who lives in Annapolis, Maryland, who actually had that traumatic karate experience.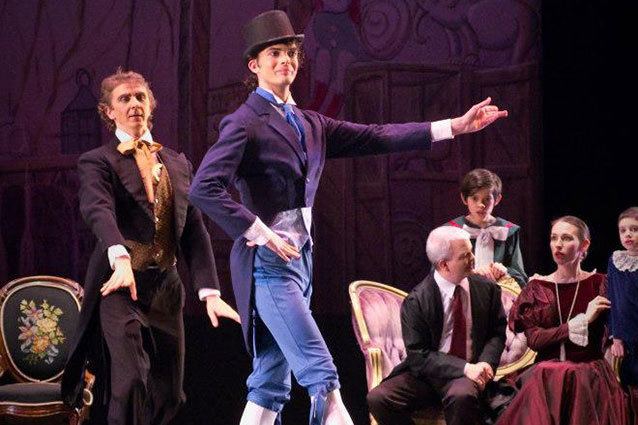 Smith, an upstate New York native who has been a professional ballet dancer for seven years and currently dances for Virginia's Manassas ballet company (which he makes the long commute to five days a week when he isn't working part-time at an inn in Annapolis). Smith, whose said his dream is to someday to work with the Kansas City ballet, will continue to work at his craft until that day comes. "You don't get a break with ballet. You keep going to build stamina," Smith said, who noted that if he ever had the chance to meet other Will Smith he wouldn't just talk about their common name, but ask how he made such an effortless transition from young TV actor to full-fledged movie star. Come on, how can you not like Will Smith? 
No foolin', we've also got some brand new interviews with the likes of Jimmy Fallon, Will Ferrell, and Sarah McLaughlin today! 
[Photo credits: Columbia Pictures; Melanie Beus Photography] 
---
From Our Partners:


40 Most Revealing See-Through Red Carpet Looks (Vh1)


33 Child Stars: Where Are They Now? (Celebuzz)