Worst Bachelor Breakups: Ben Flajnik & Courtney Robertson Join The Ranks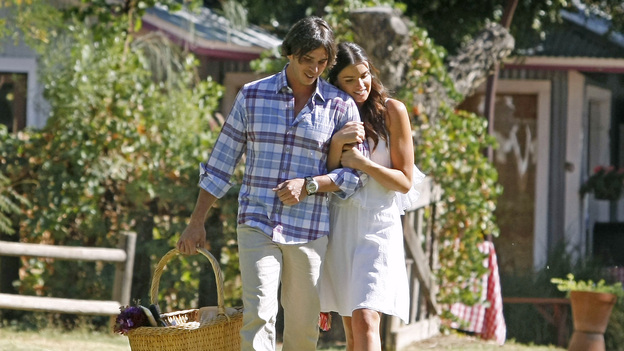 Ben Flajnik thought his dreams came true when Courtney Robertson accepted his proposal while filming the season finale of The Bachelor. But after the show premiered, Ben got to see a side of Courtney that he never knew. He felt that she tricked him, so he "abandoned" her, as Courtney explained during the After The Final Rose special that aired on March 12. The couple faced a devastating breakup that left Ben giving Courtney the cold shoulder, and Courtney feeling alone and depressed. She claimed she didn't get out of bed for days.
But, unlike some other Bachelor couples that split for good, will Ben and Courtney be able to rekindle their romance and avoid The Bachelor's worst breakups list?
Here are the worst breakups in the history of The Bachelor franchise from bad to the absolute worst:
5. DeAnna Pappas & Jesse Csincsak
DeAnna had her heart broken on The Bachelor when Brad Womack refused to give her his final during his first season. But then DeAnna got her own chance to find love as The Bachelorette. It seemed like DeAnna found her fairytale ending with Jesse, but as soon as the couple left the show, their relationship started to spiral out of control. DeAnna seemed more interested on pursuing a career in Hollywood than getting married. In the end, they both decided to go their separate ways
4. Brad Womack & Emily Maynard
Brad and Emily had a very on-again, off-again relationship. The couple reportedly broke up because Emily was unwilling to relocate to Austin, Tex. Plus, Brad was rumored to have a nasty temper. Their relationship ended in May 2011.
3. Byron Melvick & Mary Delgado
Byron and Mary were engaged for about five years, but it was never a happy engagement. In November 2007, Mary was arrested for allegedly slugging her fiance in the face while intoxicated, according to
Us magazine
. Whether domestic abuse caused the two to go their separate ways or not, Byron and Mary split for good in December 2009.
2. Jason Mesnick & Melissa Rycroft
Jason found his happily ever after, just not with Melissa. Jason proposed to Melissa during the season finale of his season, but weeks later, realized that he had picked the wrong girl. He dumped Melissa, and during a very public TV interview, asked Molly to come back to him. Jason married runner-up Molly Malaney on Feb. 27, 2010, leaving Melissa totally crushed.
1. Jake Pavelka & Vienna Girardi
Vienna and Jake called it quits after they moved in together in LA. Vienna quickly ran to a magazine to share her breakup story with the world. Jake did the same. Vienna claimed that Jake refused to be intimate with her hinting that he was interested in men. She also said that his anger drover her away. Jake insinuated that Vienna cheated on him. They officially broke up in June 2010. Vienna didn't wait long before she jumped back in the saddle and started dating another man.
Ben and Courtney: Ben and Courtney left their season a happy couple — but that all changed once the season premiered. Ben watched as Courtney change into a woman that he didn't know. Because of this, he basically cut her out of his life. During the After The Final Rose special, Courtney explained to host Chris Harrison that she felt "abandoned." Ben was also photographed spending time with other women around the same time.
But despite Ben and Courtney's issues, the couple decided to give it another go. Will they last — or will they soon end up on The Bachelor's worst breakup list?