'X Factor' Winners On 'Today': The Return of Boy Band Mania?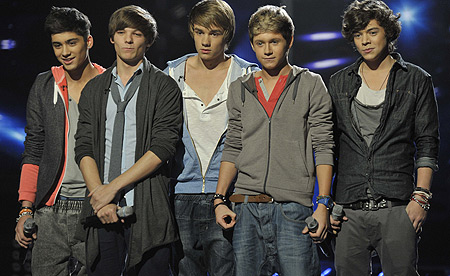 Many of us remember the 90's in a variety of ways. For some it was the era of technology advancements, such as the creation of cell phones, Tomagotchis, and Gameboys. But for others, it proved to be a pivotal moment in music history: the breakout of the boy bands.
Led by the Backstreet Boys and N*SYNC, these bands climbed the billboard charts and dominated pop culture. Teenage girls transformed their rooms into shrines and waited in countless concert lines just a get a glimpse of their favorite boy groups. It became a huge sensation, yet one that hasn't withstood the test of time. Sure there's been a few reunions here or there, but boy band popularity has drastically declined throughout the 21st century — until now.
A British boy band by the name of One Direction performed on the Today Show on March 12 and were met with an overwhelming fan base. Hundreds of adoring, screaming fans (made up of mostly young women) blanketed the outdoor stage, bearing signs, cameras, and autograph-ready memorabilia.
But in order to recognize a true boy band craze is to see it from the inside out. Hollywood.com exclusively spoke with Mara Frankel, a coordinator at Atlantic Records who got a front row seat to the madness about experiencing the mania firsthand. When asked if she thinks boy bands are making a comeback, Frankel said, "It honestly felt like Beatlemania. Not comparing One Direction's music to that of the Beatles, but the fan reaction is so similar. A group of young British boys who play catchy music in matching outfits….boy band mania is definitely back."
And it seems the fans are even more fanatical than during the days of Backstreet Boys and N*SYNC. Frankel said there were "lots of tears" and "lots of screaming," and added, "For awhile, you couldn't even see the stage over the wall of paper banners and signs in the air." And keep in mind this is all started at 5 a.m.
So who are these new stars that are sending teens everywhere into hysterics? The band was assembled on the U.K. version of Simon Cowell's The X Factor featuring five young men who had originally hoped to win the competition as solo performers. But when that didn't work, they decided to "band" together, so to speak, and start performing as a group.
And it worked. They immediately began breaking records and winning awards with songs like "What Makes You Beautiful." And though they only just started generating an American fan base earlier this month, they're already attracting massive crowds.
And their skyrocket to fame has only just begun. In fact, One Direction is even set to appear as the musical guest on Saturday Night Live on April 7. Get ready girls, there's a new boy band in town and they're not going away anytime soon. 
Visit msnbc.com for breaking news, world news, and news about the economy
But if you need any further proof of One Direction's growing popularity, compare their performance with that of NSYNC's back in 2000. Notice any crowd similarities between the two?
Source: Today