7 Times Nick Jonas Was The Thirstiest Gaybaiter
Nick Jonas is having a big week. Not only has the second season of his TV show Kingdom just started, but his third solo album, Last Year Was Complicated, is out today, as is his first ever Hollywood leading role, Careful What You Wish For.
It's all part of the career resurgence the youngest Jonas Brother has enjoyed since he went solo, which has seen him embrace music, TV, film, and even Broadway. And though his Jonas Brothers fan base consisted mostly of tween girls, he's since started courting a different demographic: gay men. Except he identifies as straight. This would be fine, except some people think he's just using his abs and chiseled chin to lure in vulnerable fans. Many believe that he's gaybaiting them.
1. I Love My Gay Fans
In the early days, there was this simple tweet to tide gay fans over:
I love my gay fans

— Nick Jonas (@nickjonas) September 8, 2014
2. That Time He Stripped
Sure, Nick, do a performance at a gay bar, and throw in a striptease for good measure. That won't give anyone the wrong idea.
3. When He Pulled a Marky Mark
Paying homage to Mark Wahlberg's famous Calvin Klein shoot isn't just designed to appeal to gay guys, but the LGBT crowd didn't exactly miss that it was happening.
4. Playing Gay
Nick has had two major TV roles, on Scream Queens and Kingdom. His characters on both shows are gay. Coincidence? Well, maybe. But probably not.
5. "I Kissed A Man"
What's that, Nick? You kissed a man? "I play a gay character on a TV show," he said, "but it's my body, my lips, my hands." We get your point Nick, but think about your phrasing here.
6. "I'd Be Lying" If I Said I Hadn't Had Sex with a Man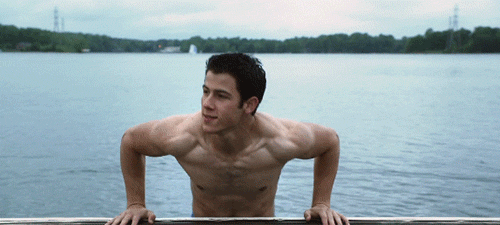 Not one to resist making a good point twice, Nick recently admitted that he "technically" couldn't say he'd never had a sexual encounter with a man–but, again, only because he's had to film it. "On Kingdom I have a sex scene with a guy," he said. "So technically I have done that, so I wouldn't say I haven't, because that would be lying."
7. When He Went Nuts for Shapes
Gay community firmly under his thumb, Nick turned his attention in another direction last month: shapes. He appeared on Sesame Street to perform 'Check That Shape'–a clear act of shapebaiting if ever there was one.
Let us know what you think in the comments below.