Yes, Mike Tyson Is Actually Coming to Broadway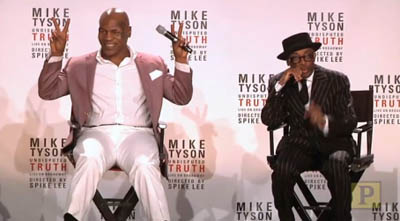 We've seen Mike Tyson knock out the competition, bite off someone's ear, go to prison, and costar in The Hangover, but now we're actually going to get a chance to see him on Broadway. What's he going to be doing? Well, talking about the fights, breakups, prison, and, hopefully, just what ear tastes like.
At a press conference yesterday, Tyson and director Spike Lee announced that Mike Tyson: Undisputed Truth will run at the Longacre Theater in New York from July 31 until Aug. 5 and will be directed by Lee. Yes, that's only six performances, but that's enough to be eligible for a Tony. The show was written by his wife and is about key moments in Tyson's life, including his mother's checkered past and his stints in jail and possibly even a story where his ex-wife Robin Givens goes out with Brad Pitt.
Yes, this who thing seems interesting and like, as Lee said, "a great American story," but based on Tyson's speech pattern at the press conference, I'm not convinced he's eloquent enough to hold an audience's attention for 90 minutes. Just look at how he bungles the punchline of the Givens story in the video below. He's going to have to work on his timing if he wants to really wow the crowd that's used to America's best thespians.
While most actors take to the stage for a love of their craft and a quest for adoration (and sometimes just the latter) Tyson's motivations are a bit different. "I"m trying to get paid to get out of debt and stuff," he says explicitly. Well, at least he's honest about it.
Follow Brian Moylan on Twitter @BrianJMoylan
More:
Zooey Deschanel to Make Broadway Debut in 'Coal Miner's Daughter'
Whitney Houston's 'Sparkle' Coming to Broadway and Bookshelves?