Home
Celebrities
Yoko Ono on Beatles Split: Band Members Felt 'They Were Getting to...
Yoko Ono on Beatles Split: Band Members Felt 'They Were Getting to Be Like Paul's Band'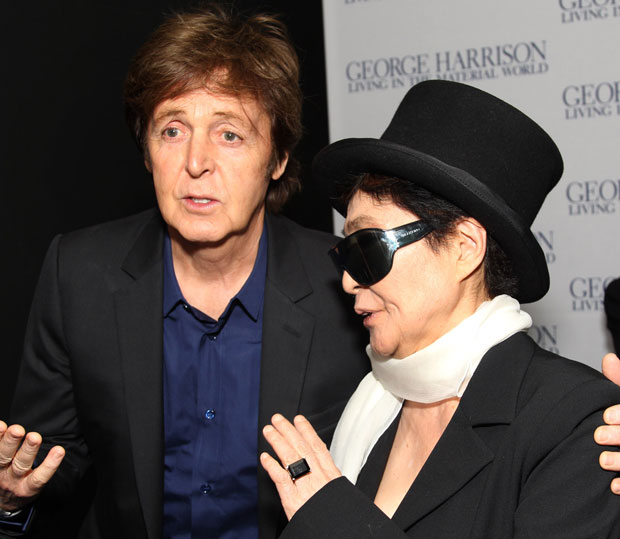 To brand someone with the moniker "Yoko" has, for many years now, meant to assign him or her the blame for a group's undoing — many a social clique has fallen victim to the influence of an interloping Yoko, a figure that disrupted the status quo with its "new ideas" on how things should operate. Well, if the namesake of this unflattering designation, Yoko Ono, is to be believed in her recently publicized revelations about the breakup of The Beatles, you might begin to put into retirement the Yoko stamp and instead start wielding a new title for said offenders: Paul. Although, really, this would probably get a little confusing, since the odds have it that you actually know a few people who are named Paul.
In a newly released 1987 interview with the iconic rock and roll reporter Joe Smith, courtesy of The Huffington Post, Ono disclosed her perspective on the downfall of the Fab Four, which she places on the shoulders not of herself, nor of the late John Lennon, but of Paul McCartney and his influence on the other band members. "The Beatles were getting very independent," Ono said. "Each one of them [was] getting independent. John, in fact, was not the first who wanted to leave the Beatles."
Ono explains that one by one, each of the musicians expressed desire to leave the group behind: "[We saw] Ringo [Starr] one night with Maureen [Starkey Tigrett], and he came to John and me and said he wanted to leave. George [Harrison] was next, and then John."
The avant-garde artist told Smith, "Paul [McCartney] was the only one trying to hold the Beatles together. But the other three thought Paul would hold the Beatles together as his band. They were getting to be like Paul's band, which they didn't like."
Recent years have already worked to mend Ono's reputation as the guilty party behind the Beatles' breakup. McCartney has gone on record to absolve Ono of this fault, most recently in an October interview with David Frost, when he pegged the blame to the Beatles' agent Allen Klein in the wake of their manager Brian Epstein's death. This latest perspective is yet another nail in the coffin of the stigma against the Yokos of the world. I guess the Barenaked Ladies were right.
[Photo Credit: Dave Hogan/Getty Images]
More:
Kings of Leon Baby Boom! Nathan Followill Tweets About New Daughter
Miley Cyrus Covers 'Jolene' Pre-Haircut, Reminds Us What She Used to Be Like — VIDEO
A 'YOLO' History Lesson: Drake's Slogan Dates Back to the 1700s

20 Hottest Bikini Bodies of 2012: Kim Kardashian and More!