You Talkin' To Me? Robert De Niro and Jay-Z Fight at Leo DiCaprio's Birthday Party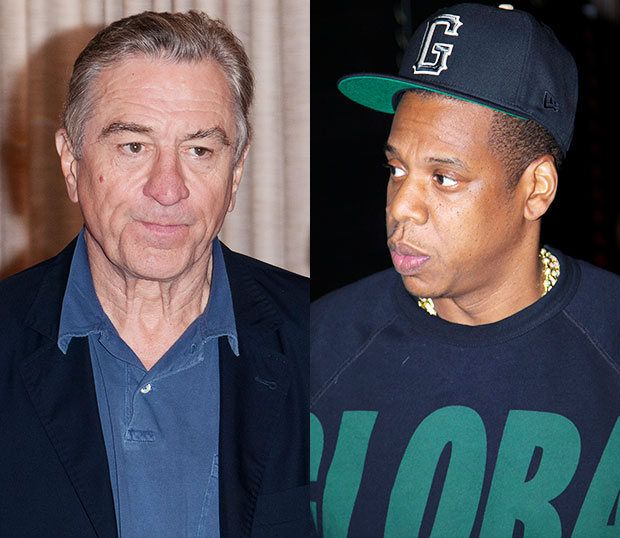 Your birthday: the one day a year when everything is about you. When your interests and values supersede that of your social circle, when positive energy most flow exclusively in your direction, when everything is supposed to go absolutely right. Every year, you approach the day with high hopes. And every year, they are dashed and scattered across the jagged rocks of your local Laser Tag venue's tile flooring or the bathroom sink of an exclusive Manhattan lounge. Because every year, you make the same mistake: you invite your friends.
The worst thing that can happen to any birthday, as poor Leonardo DiCaprio found out at his celebration of Year 38 (can you believe that?) this past weekend at the New York City establishment The Darby. The New York Post reveals that two of DiCaprio's friends and attendees, Robert De Niro and Jay-Z, engaged in a fight in the middle of the actor's festivities, something with which everyone — be you a wide-eyed nine-year-old hoping to enjoy your first birthday sleepover or an even wider-eyed 21-year-old hitting the town with your college pals for the first (legal) time — is all too familiar.
Apparently, De Niro was none too pleased with Jay-Z for having not returned any of the actor's numerous phone calls. (De Niro is said to have been contacting the music artist about developing a song for the Tribeca Film Festival). An unnamed source told the Post that the Oscar-winning actor accused the rapper of being rude and disrespectful and of letting his large ego influence his negative behavior. The story adds that Jay-Z's wife Beyoncé attempted to subdue the gentlemen, but to little avail.
So, let's recap for a second here: a fight at a mutual friend's birthday party (which is said to have lasted until 5 in the morning) over the issue of not returning calls, involving unsuccessful romantic partner intervention and ostensibly detracting all attention from the intended guest of honor. I'll say it again: all too familiar. 
[Photo Credit: WENN(2)]
More:
Janeane Garofalo's Life Is a Sitcom: She Accidentally Got Married
Guy Fieri Defends His Times Square Restaurant After Scathing NY Times Review, Hombre!
Hope Solo and Jerramy Stevens Marry Despite Assault Allegations — REPORT
From Our Partners:

'Twilight' Saga's Most Underrated Characters (PICS) (Moviefone)

Best (and Worst!) Movie Plot Twists Ever
(Moviefone)