Zac Efron Surrounded By Dildos and More Bizarre News — PHOTO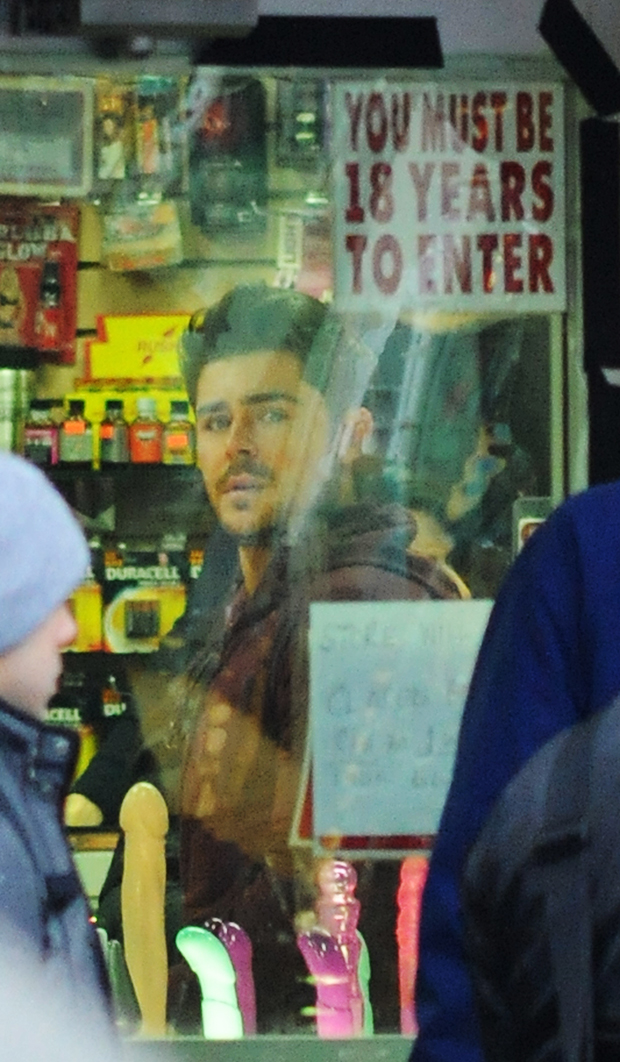 Who cares how this photo of Zac Efron "surrounded by an array of glowing dildos," as the New York Post puts it, came to be? Can't we all just enjoy the fact that it exists, and was the reason for entertainment editors everywhere to send multiple work-related emails about Zac Efron and dildos?
But if you must know, apparently Zefron was busy filming a scene for his new movie, Are We Officially Dating, at a sex shop in New York City when an intrepid paparazzo snapped a picture of the actor and some slightly embarrassing sex toys. The Post reports that Efron stopped production to chase after the photog and beg him to delete the pic, but apparently his pleas were ignored. (To our benefit, really, because now we have a photo with Zac Efron surrounded by dildos to giggle at during a particularly crappy work day.)
Check out some more of this week's bizarre news headlines below, but know that none of them will make you giggle like Efron's sex shop picture.
Is Lady Gaga in the market for Neverland Ranch? According to a report in a British tabloid — so take it at face value — Mother Monster is contemplating purchasing a share in Michael Jackson's estate. As fun as it is to imagine Gaga and a pet monkey screaming on carnival rides in their spare time, the report's most amusing moment is the revelation that Gaga's purchase comes as a result of her close friendship with LaToya Jackson. It would be a way to help out Michael's kids as they continue to deal with their father's financial troubles that began before his untimely death. [The Sun]
Subway is totally ripping you off. Jared is a liar! Apparently, that $5 footlong you've been buying on the regular isn't living up to its name: An undercover sting operation finds that most of the sandwiches are around 11-11.5 inches in length. But wait! There's more. The company has also reduced the size of its cold cuts by 25 percent without letting anyone know, so you're getting less meat in that too-short sandwich. Talk about a slap in the face! [ MSN ]
Son of 'Barney' creator arrested for attempted murder. Okay, so this one's actually quite sad. The son of the woman who brought preschoolers and their annoyed parents the lovable, earworm-spouting purple dinosaur was arrested in early January for shooting his neighbor in the chest. Maybe he's had that theme song stuck in his head for 27 years and was unable to absorb that lesson about loving each other… [Warming Glow]
German doctors leave 16 items inside patient's body. No, really, that happened. Apparently, a the family of a cancer patient is suing a German hospital for leaving 16 medical-related odds and ends inside of him after a 2009 operation for prostate cancer. He survived two subsequent surgeries to retrieve them, and died in 2012 due to complications from his cancer. It's just like that episode of Seinfeld where Kramer dropped a Junior Mint into Elaine's boyfriend while observing his surgery, but real. [Huffington Post]
Follow Jean on Twitter @hijean
[PHOTO CREDIT: Splash News]
More:
'Twilight' Star's Tattoo Mistake: Celebs With Cringeworthy Ink
Dear LeAnn Rimes: Stop Talking About Your Affair
Lance Armstrong Confesses Doping to Oprah

54 Cutest Celebrity Kids! (Celebuzz)