Zach Galifianakis Calls Justin Bieber Out for Being a Douche in 'Between Two Ferns'
Thank goodness for Zach Galifianakis. In a new episode of Between Two Ferns, Galifianakis' mock celebrity interview web series, the Hangover star calls out Justin Bieber for all of the douche moves he's pulled within the last year. It's about time.
While Galifianakis' interviews are usually two-sided (both he and the guest will make fun of each other), this interview is definitely more focused on burning Bieber for his immaturity and nothing else. The episode starts out with Galifianakis saying, "It's really exciting to talk to you, especially right in the middle of your public meltdown," and quickly escalates from there. The good news for Bieber is that it looks like he's actually capable of making fun of himself. Either that or he's actually a d**k.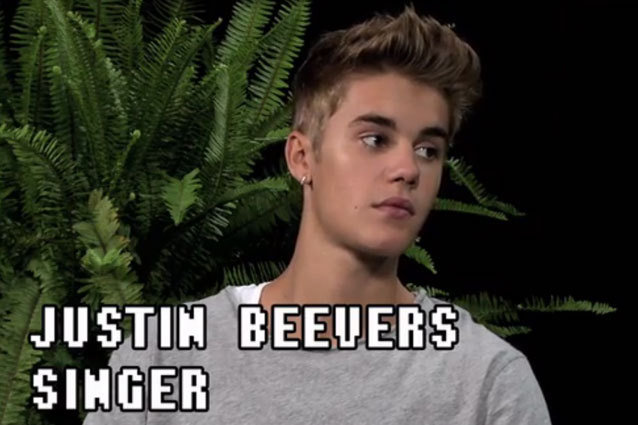 Funny Or Die
Here a few of the other zingers Galifianakis had in line for Bieber:
– "I've just never interviewed a 7-year-old before. What was the last toy you got in a happy meal?"
– "Your young punk attitude is not going to work in this interview. You understand me, son?"
– "You've had three hairstyles, so what's next for your career?"
– "You know what? I don't like your attitude, to be quite honest. You're too young to be smoking pot and pee-peeing in buckets and driving up and down the highway fast. I don't think your mom would really mind if a stranger whipped her son." (Galifianakis proceeds to take off his belt and whip Bieber.)
More:
Justin Bieber is Officially a Worse Role Model Than Lindsay Lohan
Will Ferrell Makes Out With Zach Galifianakis on 'Between Two Ferns'
Jennifer Lawrence, anne Hathaway, Christoph Waltz Go on 'Between Two Ferns'
Follow @CaseyRackham  
Follow @hollywood_com
---
From Our Partners:


A Complete History Of Twerking (1993-2013) (Vh1)


15 Stars Share Secrets of their Sex Lives (Celebuzz)