One Direction's Zayn Malik Gets Engaged, Breaks a Zillion Girls' Hearts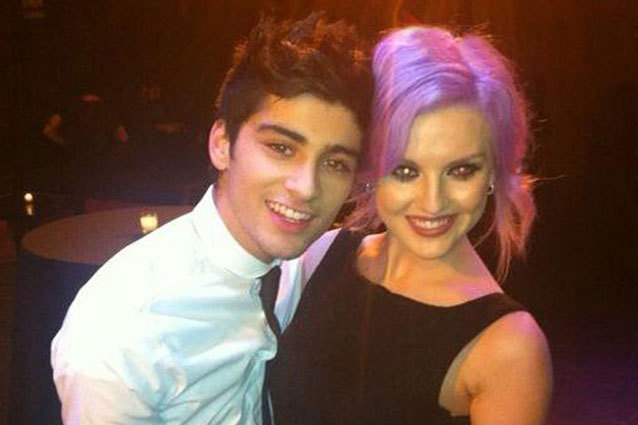 That high-pitched whine you currently have reverberating in your ears and threatening to make your brain bleed is the sound of approximately a quadrillion teenaged girls wailing across the globe. Because Mr. Zayn Malik (20), one fifth of the boy band One Direction, is now fianced. A label rep confirmed the news to People, "Zayn and Perrie are engaged, but any further detail regarding their relationship is private."
Malik's now-fiancée is 20-year-old Perrie Edwards, a fellow former X Factor contestant and member of the British girl group Little Mix. She arrived at Monday's London premiere of the One Direction documentary This Is Us with a bit of bling on a particular finger, prompting the rumors of an engagement and Wednesday's confirmation.
While many Directioners proved to be mature individuals who took the news in stride, tweeting words of support for the couple and causing the coupname (that's short for "couple nickname") Zerrie to trend, others were distraught. Overcome, hysterical, mournful. See below. 
ZAYN GIRLS HAVE IT THE WORST ZAYN IS NEVER ONLINE WE BARELY SEE HIM OUTSIDE AND NOW HE'S ENGAGED DONT TELL US TO BE CALM

— addie (@zaynatomy) August 21, 2013
You're sad because you missed harrys tweeting spree but im sad and crying over zayn being engaged

— 🙁 (@zarryshearts) August 21, 2013
but zayn is engaged 🙁 pic.twitter.com/wzOa6xdY8n

— glazed donut (@carboniall) August 21, 2013
PERRIES MOM CONFIRMED SHE AND ZAYN ARE ENGAGED OH MY GOD IM SOBBING I CANT http://t.co/icRO2gH08C

— CONGRATS ZAYN (@coldshire) August 21, 2013
So I cried when I found out Zayn and Perrie are engaged. Then I cried again when I found out that Perrie's brother confirmed it

— 07/03/13❤ (@wewantthe1Dxx) August 21, 2013
Zayn is engaged BRB SOBBING

— Abriah aka bye (@xiamsherlocked) August 21, 2013
I'm okay with zayn being engaged and all but every time someone mentions it I feel like someone just punched me in the throat.

— Mona♛ (@mxo_42) August 21, 2013
Follow Abbey on Twitter @abbeystone
More:
A Directioner Reacts to One Direction's Brand New Movie Poster
One Direction Should Have a Sketch Comedy Show
Why Does One Direction Get Away with Overly Sexualized Behavior?
---
From Our Partners


Battle of the Bikini Bodies (Celebuzz)


Complete Guide to Strippers in Movies and TV (Vh1)