Zooey Deschanel and Ben Gibbard Divorce Finalized: Zooey Asks Siri for Dating Advice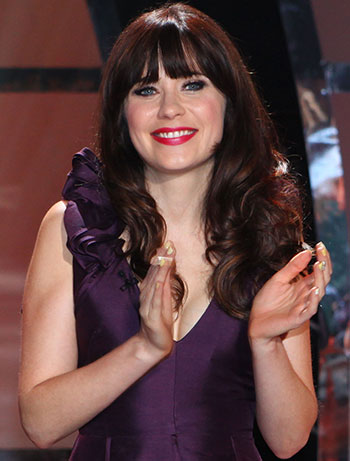 After living in No-Longer-Married, Not-Quite-Divorced land for nearly a year, Zooey Deschanel and Death Cab for Cutie frontman Ben Gibbard are now officially divorced, People reports. This means that everyone's favorite manic pixie dream girl is now, at long last, a single lady again. She better get out her sparkly dress, her dancing shoes, and her custom chopsticks because Date City, here Zooey comes!
But wait! Zooey's confused. It's been so long since she was single, she doesn't know where to start or whom to call. Good thing she has her very helpful best personal assistant Siri to tell her who to date next. Below is a transcript of a real (no, it's totally made up) conversation that took place between Zooey and Siri Tuesday morning.
ZOOEY: Siri, who should be my new boyfriend?
SIRI: According to a Google search, you have been romantically linked to Joseph Gordon-Levitt. Would you like me to find Joseph Gordon-Levitt in your contacts?
ZOOEY: Joseph… Joseph… Refresh my memory, Siri, why does that name sound familiar?
SIRI: According to the Internet Movie Database, Joseph Gordon-Levitt and Zooey Deschanel starred in (500) Days of Summer together in the year 2009. Would you like me to add (500) Days of Summer to your Netflix queue?
ZOOEY: Now I remember! One night after wrapping he took me to a vegan restaurant in L.A for tofu dumplings and organic sake. Then he guest blogged for HelloGiggles while I played the ukulele and sang to him. 
SIRI: I'm sorry, I do not understand that request.
ZOOEY: Vegan. A vegan restaurant.
SIRI: I found fifteen restaurants whose reviews mention vegan recipes fairly close to you.
ZOOEY: Super! Remind me to make a reservation for Saturday.
SIRI: Okay, I'll remind you.
ZOOEY: Sounds like a date. Hmmm… Siri, why do I feel like I'm forgetting something?
SIRI: Here is the mobile phone number for Joseph Gordon Levitt…
SIRI: …And for Adam Brody, in case Joe is too busy for you.
ZOOEY: Thanks, Siri. You're the tops. Now play "Pennies from Heaven." Today, we're dancing.
Follow Abbey Stone on Twitter @abbeystone
[Photo Credit: B.Dowling/WENN]
More:
Olivia Munn Vs. Zooey Deschanel: Is a 'New Girl' Fight a Possibility?
Zooey Deschanel, the Single Girl: 'I Don't Have Time To Date'
Meet Twoey Deschanel: 'New Girl' Stunt Double and 10 Other Celeb Lookalikes — GALLERY

'Jack Reacher': The Beginner's Guide To The New Tom Cruise Movie

'Les Miserables' Unscripted: Hugh Jackman, Anne Hathaway On Singing And Being Modest