Of Course Zooey Deschanel's New Adopted Puppies Are Just As Adorkable As She Is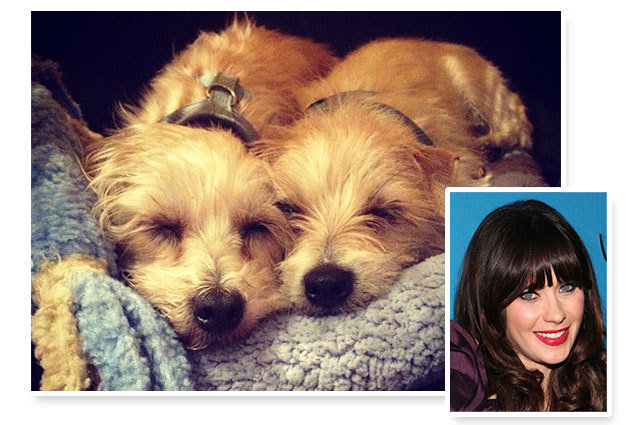 When you think of Zooey Deschanel you probably think of ukeleles, sticker books, artisinal muffins, little jumpers with oddly placed pom-poms, and bangs. You definitely think bangs. What do all of those things have in common? They are cute. Well, except the bangs, which can go horribly awry and be the opposite of cute. To add to all of that cuteness she just rescued two puppies thanks to the Bill Foundation. Awww.
Deschanel Twittered a picture of the two balls of fur named Zelda and Dot. (One after the video game and one after the polka. Ha. No. I just made that up.) Aren't those names cute? Aren't the puppies cute? Isn't them sleeping and being twins cute? Oh my god, this is far too much cuteness. I'm getting nauseated. 
I have to thank the #billfoundation for the greatest, sweetest, most wonderfuldogs in the world. Apples… instagr.am/p/W0Ih5frjvK/

— zooey deschanel (@ZooeyDeschanel) March 13, 2013
I have no idea what apples have to do with any of this, except that they're cute, too? Oh apples…
Follow Brian Moylan on Twitter @BrianJMoylan
[Photo Credit: Instagram; B. Dowling/Wenn]
---
You Might Also Like:


15 Oscar-Winning Nude Scenes


Topanga's Revealing Lingerie Shoot: Hello '90s!