Zooey Deschanel Receives a Birthday Letter From President Obama

If you're like me, you receive birthday cards from all the usual suspects: parents, grandparents (with a $5 bill inside), aunts, uncles, and that crazy, elderly cousin who still doesn't know how old you really are. As a kid I didn't really care much for the whole card-opening process, but now that I'm grown up and moved out, I get extremely excited to receive mail of any kind (well, you know, except jury summons and bills). In such a digital world, real mail is becoming less and less common, so it's always a little thrilling to open a card. Speaking of which, Zooey Deschanel recently received some rather exciting mail of her own — from none other than President Barack Obama.
In honor of her birthday (which was yesterday), the president took the time to send the New Girl star a birthday letter, thanking her for being such an incredible person. Insane, right? Can you imagine waking up and finding a note from the President of the United States in your mailbox? I would totally get that thing framed. And as proof of the prestigious message, the actress posted a picture of the letter in its entirety on Facebook: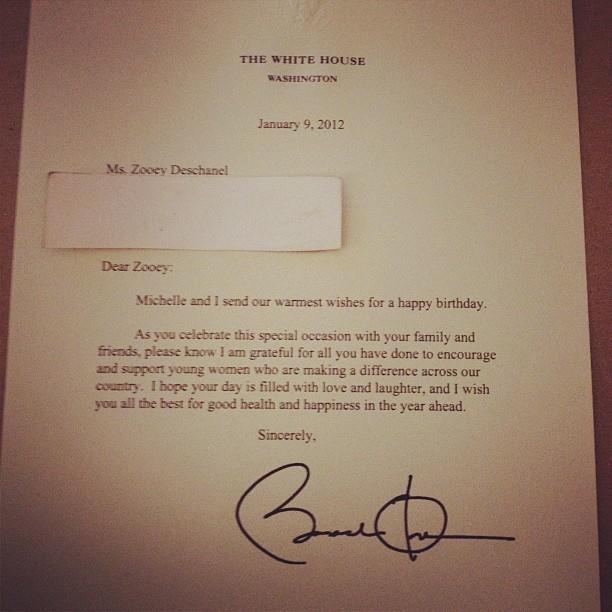 In closing, I just want to state for the record that my birthday is April 15. Just throwing that out there in case any high up political figure wants to send some birthday wishes my way. I'm willing to accept postcards as well.
Source: Facebook