Annie Leibovitz's Rep: 'She Wasn't Confirmed For Kanye West Wedding Snap'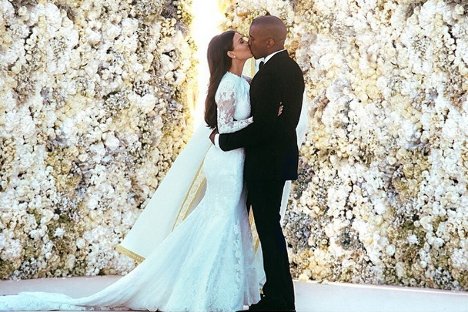 Instagram/kimkardashian
Famed photographer Annie Leibovitz's representative insists the snapper was never confirmed to shoot Kanye West and Kim Kardashian's official wedding portrait.
The Stronger hitmaker took aim at Leibovitz during an appearance at the Cannes Lions International Festival of Creativity conference in France on Tuesday (17Jun14) after revealing she had pulled out of the gig on the eve of their big day in Italy last month (May14).
West claimed the newlyweds managed to hire a last-minute replacement, but ended up spending four days of their honeymoon perfecting the now-famous shot of the rapper kissing his bride in front of a wall of roses before sharing it with the world via Instagram.com, because he wanted it to be in the same style as other classic Leibovitz pictures.
Now a rep for the in-demand snapper, who photographed West, Kardashian and their baby daughter North for their recent Vogue magazine cover, has responded to the outspoken star's comments. She tells TMZ.com, "Unbeknownst to Kanye, she was never confirmed (to shoot the wedding photos). "She would have loved to have taken their wedding portrait and was disappointed it didn't happen."
The Instagram photo became the most-liked image ever on the social networking website, boasting almost two million 'likes' and more than 35,000 comments.