David Duchovny: 'Russian Beer Ad Is Not A Political Statement'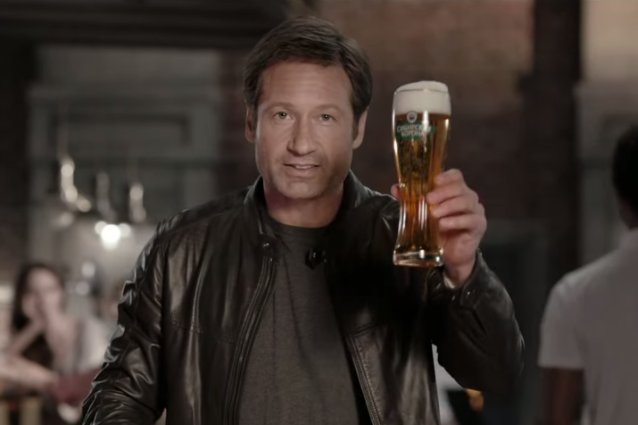 YouTube/НашиГерои
Actor David Duchovny has defended his decision to star in a new commercial promoting a beer from his family's native Russia, insisting the ad is not a vote of support for the nation's controversial President Vladimir Putin.
The former The X-Files star features in a new promo for Siberian Crown, in which the New York native muses about how different his life would be if he had been born in Russia.
In the commercial, which emerged on YouTube.com on Friday (25Jul14), Duchovny says, "This (America) is the country where I was born and raised, but there's another country, where I got my family name from. Sometimes I wonder, what if things turned out differently? What if I were Russian?"
He goes on to contemplate what kind of profession he would have taken on, posing as an astronaut, a dance instructor and an ice hockey player, among other things.
However, the release of the ad sparked controversy as political tensions between the U.S. and Russian governments grow over the ongoing conflict in the Ukraine and the recent tragedy of the Malaysia Airlines plane, which was reportedly shot down over the country by pro-Russia separatists.
Now Duchovny has spoken out to insist the advertisement is just for beer – and has nothing to do with politics.
A statement issued to TMZ.com reads: "I am proud of my Russian, Ukrainian, Scottish and Polish heritage as I am proud of my American heritage. "But being proud of one's ancestry is not a political statement on any current government or public policies." However, the actor accepts the timing of the promo's release is unfortunate. He adds, "In retrospect, and in light of recent tragic events, I can now see the potential for misunderstanding and hope people will understand."