Disney Bosses Pay Touching Tribute to Robin Williams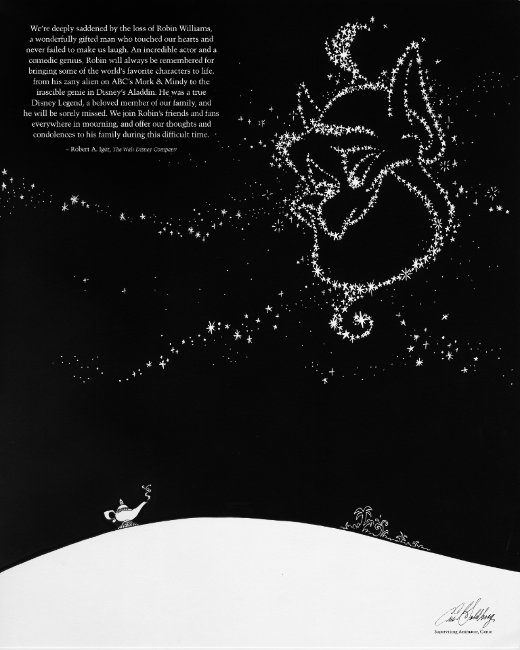 Twitter/Disney
Disney bosses have paid a touching tribute to their Genie, Robin Williams, by painting an image of his animated Aladdin character in the stars.
The late actor's friends at the Walt Disney Company have released a photo of his magical character cleverly crafted from stars in the night sky. Disney chairman Robert Iger has also offered up a statement about Williams, which was released as the caption for the image.
It reads: "We're deeply saddened by the loss of Robin Williams, a wonderfully gifted man who touched our hearts and never failed to make us laugh. An incredible actor and a comedic genius, Robin will always be remembered for bringing some of the world's favorite characters to life, from his zany alien on ABC's Mork & Mindy to the irascible genie in Disney's Aladdin. He was a true Disney Legend, a beloved member of our family, and he will be sorely missed. We join Robin's friends and fans everywhere in mourning, and offer our thoughts and condolences to his family during this difficult time."
Meanwhile, the organisers of the annual Deauville American Film Festival in France have announced they will pay homage to Williams, who visited the event in 1988 and 1999. Calling the tragic star "an old friend", festival bosses have posted photos of the late actor at the event on Deauville's Twitter.com page. Will Ferrell, Jessica Chastain and James Cameron will he honoured with career awards at the festival, which begins on 5 September (14).