Dog The Bounty Hunter Part of Manhunt for MMA Fighter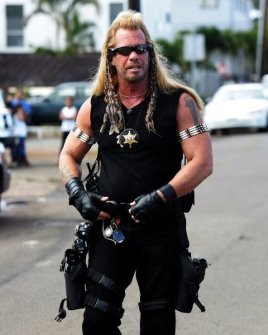 A&E
Reality TV star Dog The Bounty Hunter has joined a manhunt for a professional mixed martial arts fighter accused of beating up his girlfriend and a pal.
The tough guy, real name Duane Chapman, has confirmed he's part of a Las Vegas group on the hunt for Jonathan Koppenhaver, aka War Machine, who is wanted by the Las Vegas Metropolitan Police Department for questioning in connection to an incident last week (08Aug14).
Police have not released the names of the two victims, but the Ultimate Fighting Championship star's porn actress girlfriend Christy Mack has revealed she's recovering from 18 broken facial bones, a broken nose and rib and a liver rupture on Twitter.com.
In a tweet, Dog the Bounty Hunter, who has made a name for himself tracking down and capturing fugitives, writes, "Time is up! BEWARE OF THE DOG."
Koppenhaver, who faces felony charges of domestic battery with substantial bodily harm and assault with a deadly weapon, might prove elusive – responding to the allegations against him on Twitter, he writes, "The cops will never give me fair play, never believe me. Still deciding what to do but at the end of the day it's all just heart breaking."