Frances Bean Cobain Takes Aim at Lana Del Rey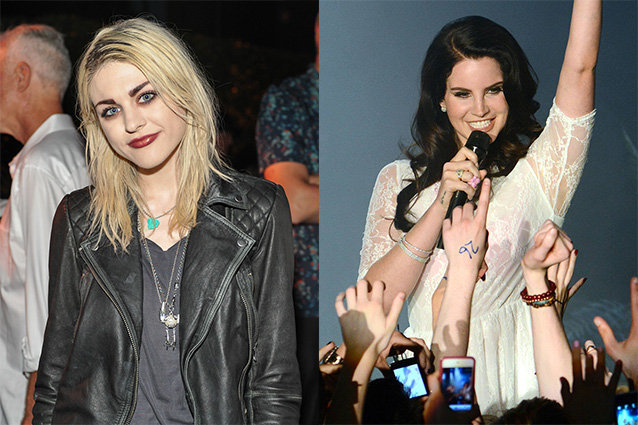 Getty Images/WENN
Kurt Cobain's daughter Frances Bean Cobain has criticised Lana Del Rey for "romanticising" the death of young musicians like her father.
The Summertime Sadness star hit headlines earlier this month (Jun14) when she spoke about the premature deaths of artists like Nirvana frontman Cobain and soul singer Amy Winehouse, declaring, "I wish I was dead already".
Del Rey has since criticised The Guardian's Tim Jonze over the interview, calling him "sinister" and sparking a war-of-words with the journalist, who alleged the star "doesn't seem to know what she's actually complaining about".
The controversial comments have now attracted the attention of Cobain's daughter, who was just a baby when her father died in 1994 at the age of 27. In a post on Twitter.com, which has since been deleted, the 21 year old writes, "The death of young musicians isn't something to romanticise. I'll never know my father because he died young and it becomes a desirable feat because people like you think it's 'cool'. Well, it's f**king not. Embrace life, because you only get one life."
Frances later added, "I'm not attacking anyone. I have no animosity towards Lana, I was just trying to put things in perspective from personal experience."
The news comes after Del Rey cited Frances' mother, Courtney Love, as a friend and inspiration, telling French radio network France Inter, "Courtney Love's a big inspiration. I like her, I talk to her a lot. I just went (to) her show… when she was playing in London. I like people who are similar to her, like Joni Mitchell types or Stevie Nicks, who are both strong female characters."