Gaultier Out-Brooklyns Brooklyn — 'The Fashion World of Jean Paul Gaultier: From the Sidewalk to the Catwalk'
Alix Malka
It takes a lot to raise eyebrows in Brooklyn. Jean Paul Gaultier is about to.
Within minutes of entering the main exhibition space for the retrospective of iconoclastic French designer Jean Paul Gaultier at the Brooklyn Museum, you feel something in the air. Standing in front of one of his polysexual fantasias on French sailor attire, you notice the mannequin is eyeballing you: move to the left, his eyes follow you. And then they follow you back. You are being cruised by a motion detector.
It comes as no surprise that this prolific, ingenious and gutsy original should have a few tricks up his sleeve. And having read about this traveling show you might imagine yourself prepared for what you will find there. But you will likely be surprised. And not by the exhibition technology.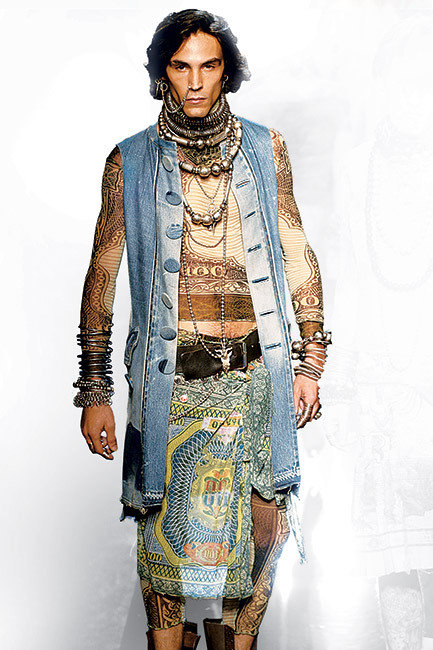 Patrice Stable/Jean Paul Gaultier
It's the ideas. The show is packed with them, and not simply gallery to gallery. It's outfit-to-outfit, head to toe. By the time you've scanned past the parasol of human hair, across the dress crocheted from individual crocodile scales and over the gauze jumpsuit encrusted in sharkskin, metal and marcasite embroidery, you have spanned centuries of artifact and crossed continents.
The Montreal Museum of Fine Arts, Christine Guest
There is sartorialism re-imagined as cages, an acid-washed denim ball gown with individually applied ostrich plumes, a wedding gown made from an African mask and a can-can skirt lined in human legs. There are punks, pansies, sirens and brutes, invisible women and men in brassieres, women as iconography and women who are buildings. If you are not amazed, there is no hope for you.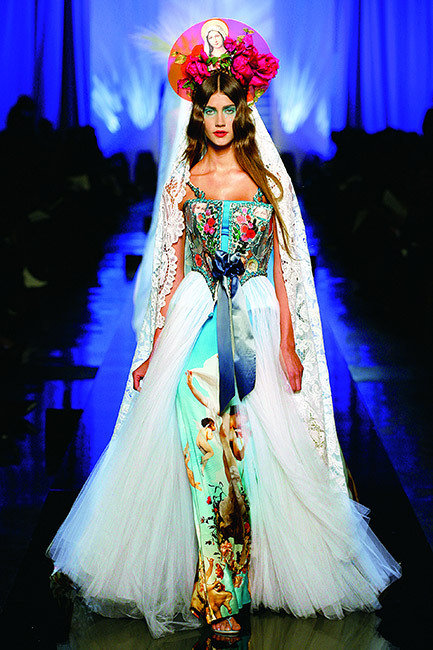 Patrice Stable/Jean Paul Gaultier
But the best thing — the very best thing — about the volume of dreams that have passed between Gaultier's ears is how densely political, humanistic and openhearted it all is. Every stitch in this exhibition is dedicated to the citizens of the world he has watched like a hawk all these decades. You won't see one drop of cynicism in the inspiration the couturier has plucked off the streets. He is in love with us.
And he has loved us in style.