Iggy Azalea & Rita Ora Raise Temperatures At Made In America Festival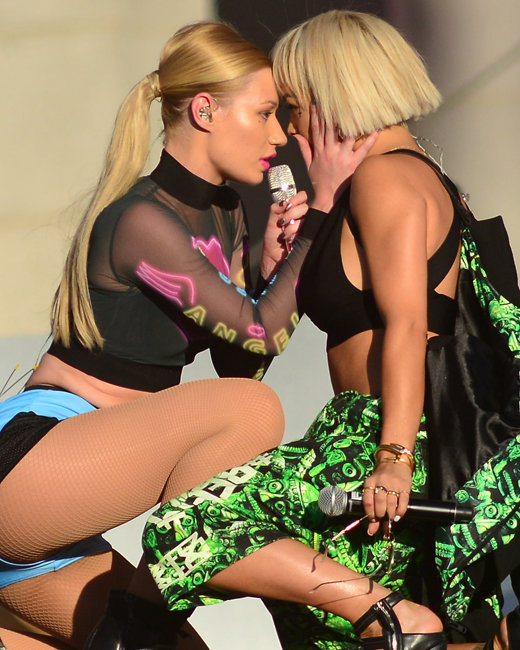 Splash News
Pals Iggy Azalea and Rita Ora teased fans with a super-sexy performance at Los Angeles' first Made in America festival on Saturday (30Aug14).
The 24-year-old Australian rapper and her 23-year-old British sidekick hit the stage at Grand Park to perform their collaborative hit Black Widow and almost locked lips.
The blondes squatted on the stage and faced off with one another, coming just inches from a same sex kiss that clearly turned the crowds on. Fancy hitmaker Azalea was on a bill that also included Kendrick Lamar, Imagine Dragons and Afrojack as Jay Z's festival came to Los Angeles for the first time three years after its launch in Philadelphia, Pennsylvania.
An estimated 26,000 fans attended the inaugural festival in Los Angeles on Saturday, and despite police reports suggesting 29 people were arrested at Grand Park for drugs and alcohol-related crimes, officers say a majority of the revellers were well behaved.
Made In America, which is a two-day event, spans across the U.S. as it not only takes place in L.A., but also simultaneously in Pennsylvania's capital city. Ora is expected to hit the stage again on Sunday (31Aug14), alongside Saturday's Philadelphia Made in America headliner Kanye West, AWOLNation, John Mayer, Weezer and Cypress Hill.
Sunday's Philadelphia line-up features Tiesto, Pharrell Williams and Kings of Leon, who are planning to make their stage comeback after having to scrap a series of shows following a tour bus crash that left drummer Nathan Followill with broken ribs and other injuries. In a post on Twitter.com on Sunday, the drummer wrote, "It's show day Philly. I haven't melted faces in a few weeks so I'll be bringing some extra heat."